Listen to George Michael's Best Songs: "Careless Whisper," "Faith" and "Father Figure"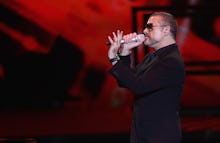 With the death of George Michael, 53-year-old Wham! singer and gay icon, on Christmas day, it's an important time to recognize the celebrity's musical legacy. While his single, "Last Christmas," was tremendously popular and took on a new poignant meaning this season, Michael's style was wide-ranging. As the Telegraph pointed out, he was as known for his ballads as he was his pop hits. Here are three of Michael's most iconic songs:
"Careless Whisper" (1984)
"Careless Whisper" was Wham's most beloved song. According to the Independent, it sold more than 6 million copies worldwide and achieved No. 1 status in more than 25 countries. Michael, however, wasn't too pleased with the achievement. 
In a 2009 interview with the Big Issue, Michael said, "I'm still a bit puzzled why it's made such a big impression on people." He speculated that it may be because many of the song's fans have cheated on their partners as discussed in the song, but he still wasn't sure: "Is that why they connect with it? I have no idea, but it's ironic that this song — which has come to define me in some way — should have been written right at the beginning of my career when I was still so young." Michael said he wrote the song at age 17.
The song appears in a funny hook-up montage in the 1998 Saturday Night Live-inspired movie, A Night at the Roxbury. Forbes contributor Simon Thompson calls it "a short sequence ... but comedy gold."
"Faith" (1987)
"Faith" appeared on Michael's first solo album, which went by the same name. Despite concerns for him venturing on his own, Michael's going solo in no way hurt his career. The Washington Post reported that Michael was the first singer in almost 20 years to have both the top-selling album and single of the year. For Michael, that meant Faith and "Faith" respectively. 
Billboard critic Andrew Unterberger recently described "Faith" as an "ass-shaking solo statement of intent" and noted that "a record saying 'no' could be just as steamy as one saying 'yes.'"
BBC called the video for "Faith" one of the most iconic music video looks of all time.
"Father Figure" (1987)
Rolling Stone's Armond White called "Father Figure" a song of "political" and "subversive" seduction. After Michael departed from Wham! and went solo, White said it was critical for him to shed his boy band reputation. "Father Figure," which appeared on the album Faith, helped make that possible. He called that song the most "impressive" and "enduring" single on the album. With its mix of R&B and pop gospel, "Father Figure" made Michael's crossover into blue-eyed soul official. 
"Father Figure" also is one of four songs by Michael to appear in the new Key and Peele movie, Keanu. Actor Jordan Peele told Bustle that when Michael gave permission to have his music used in the movie, "it was this amazing moment, because you realize you've just gone from a question mark to what you know is a soundtrack that everybody [will love]."