5 engaging books about money and wealth to pick up in 2017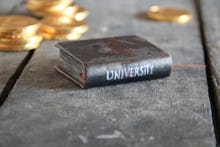 When it comes to vacation reading, books about money don't spring to mind as good page-turners. But that's an unfair impression: In any brokerage or Wall Street firm, billions of dollars can be at stake at a given moment — surely the stuff of high drama. 
Here are a few books about money that you won't want to put down, and will also teach you a little something useful about markets and personal finance. 
1. Too Big to Fail by Andrew Ross Sorkin
Andrew Ross Sorkin's Too Big to Fail is one of the most popular and accessible books about the financial crisis. It explains why the government bailed out the banks and is chock full of amazing gossip and fly-on-the-wall anecdotes that Sorkin experienced as a Wall Street beat reporter for the New York Times. 
Want to know, for instance, what prompted former Treasury Secretary Henry Paulson to exclaim to his aids that the British had "grin-fucked us?" Of course you do.  
2. The Big Short by Michael Lewis
For an equally riveting history that focuses on the housing bubble, Michael Lewis' The Big Short — the account of four iconoclast investors who saw the whole thing coming — is hard to beat. It's also a great illustration of one of the most timeless investing axioms: Be fearful when others are greedy.
3. Bonfire of the Vanities by Tom Wolfe
Tom Wolfe's Bonfire of the Vanities is one of the quintessential books about Wall Street excess in the 1980s. Though fiction, Wolfe's novel about the moral awakening of a Sherman McCoy bond trader is based on real events. It's said to be inspired by traders at the once high-flying Saloman Brothers, which was famous for its high-pressure bond desk. 
4. Barbarians at the Gate by Bryan Burrough and John Helyar
Private equity — the process where larger companies buy, chop up and turn around struggling companies — lends itself to violent metaphor. On that score, Burrough and Helyar's account of how one of the first private equity firms, Kohlberg Kravis Roberts (KKR), acquired the company RJR Nabisco for $25 billion won't disappoint. What's more, since its early days, private equity has exploded in popularity, meaning that while the book is more than two decades old, it's more relevant than ever.  
5. The Money Book for the Young, Fabulous and Broke by Suzie Orman
For a book that'll actually give you some personal finance advice — as opposed to high drama on Wall Street — Suzie Orman's The Money Book for the Young, Fabulous and Broke is a classic. It's perfect for the young person who's serious about getting their finances in order. 
"By the time I finished the book, I realized the only reason money was so foreign and scary to me was because I'd never taken the time to sit down and actually learn about it," said Broke and Beautiful Life author Stefanie O'Connell in an email to Mic. "To me, it's not so much about choosing the perfect book, so much as it is about setting aside the time to learn about and engage with your money."