Grindr put out a coffee-table book inspired by the mass shooting in Orlando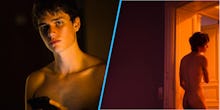 Grindr is getting into the book business. 
Social networking app Grindr recently released Home, a book filled with intimate portraits of nude and semi-nude models, in collaboration with photographer Matt Lambert, Dazed reported. 
The $75 book features 48 images, accompanied by interviews of young gay men that Lambert met during travels to Toronto, Paris, London, Prague, New York, Los Angeles and Berlin, according to the Grindr store website. Grindr's creative director Landis Smithers said the coffee-table book of images was inspired by the mass shooting at Pulse nightclub in Orlando, Florida. 
"After Orlando, we began to look for ways to express this common sense we all had that something had been taken away from us," Smithers said to Dazed. "A sense of comfort in each other, in the ability to be safe, to walk or speak or simply exist in places we had taken for granted were 'ours.'" 
In a statement to Mic, Lambert said the book was a response to trolls who, after the Pulse shooting, were "laughing at the sacred pedestal [on which] the community placed its venues and meeting places." However, Lambert said though Pulse inspired the book, the book is not about the Pulse shooting. 
"The book is not connected to, nor does it discuss the incident," Lambert said.
That the book and the shooting are not related is mostly evident. The book's featured models are diverse, according to a set of preview images Lambert has shared on his Instagram, but they don't reflect the demographic of the Pulse victims, 90% of whom were Hispanic. The Grindr store also does not mention whether any of the models were from Orlando.
The book is also not about physical spaces like bars. In his interview with Dazed, Lambert said that when the models discussed their safe spaces, "everybody's response was connected to digital spaces rather than physical." 
The website also does not mention whether any proceeds from the book would go to any fund benefiting victims of the Pulse shooting. Grindr did not immediately respond to a request for comment as to whether they would be donating a portion of the proceeds to the victims or survivors' families.