5 states where it's legal to gift marijuana to your stoner friends and family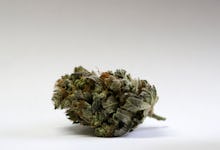 Christmas may have come and gone, but we're still in the holiday season until January 1. Looking for a belated gift that will still impress? You can legally gift marijuana if you live in one of these five states, plus one city.
Colorado
Colorado was the first to legalize recreational marijuana, so it's no surprise marijuana gifting is legal in the state. You can give away up to one ounce (28 grams) so long as the recipient is 21 years or older, according to Colorado's law.  
Oregon
Oregon's laws are pretty similar to Colorado's. As long as you're giving it to someone 21 and older, you can gift up to an ounce of marijuana. Just make sure you aren't lax with the law when it comes to the neighboring state of Washington — you can't take Oregon weed to Washington and vice versa. 
Alaska 
Same rules as above apply. 21 and older and up to an ounce. One key bonus, though: You can also gift up to six marijuana plants. 
Massachusetts 
Now onto the newcomers. Recreational marijuana was recently legalized in Massachusetts and the law officially went into effect Dec. 14. Of-age residents can gift up to an ounce of weed just like the other states. And here's a bonus: Since Massachusetts allows you to keep up to 10 ounces at home, you could technically gift one ounce to ten different people. 
California
California's recreational weed law passed on Election Day and went into effect the following day. Unfortunately, the state won't start handing out business licenses until Jan. 1, 2018. Technically, you can still gift weed though — it would just require your medical marijuana friends to gift some to you. And the key word truly is "gift" — if you purchased it from them it would be illegal. 
Washington, D.C.
The nation's capitol happens to be pretty progressive. Recreational marijuana is legal in the district, but it's only to possess and cultivate it. That means you'd have to grow your own weed in order to gift it. In spite of that, the possession limit is higher than usual — you can get away with carrying two ounces in D.C. 
Some bonus states with unique situations 
Nevada also legalized recreational marijuana on Election Day, but the law doesn't go into effect until Jan. 1. When it does, though, you'll be able to gift up to an ounce to individuals 21 and older.
Maine legalized weed on Election Day — but then it sort of didn't. A recount was implemented, but then soon abandoned and marijuana officially became good to go. Residents just need to wait for the law to take effect. Right now, that's estimated to happen in February 2017.
Washington allows residents to purchase recreational marijuana, but prohibits home-growing unless you're a medicinal patient. If you want to gift, take advantage of a medical license or buy pot from a dispensary and give it away.
Lastly, a few tips ...
Always make sure the offer is truly a gift. You can't receive any monetary value back or else it becomes a purchase, and thus illegal. 
Do not mail the weed. Technically, marijuana is still illegal on a federal level. Since the United States Postal Service oversees most of the mail being sent around the country, you should not risk mailing marijuana in any form.