Here's your best songs of 2016 playlist: Drake, The Weeknd, Radiohead and more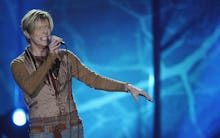 This late in the game, positive reflections on 2016 are hard to come by. Fortunately, there was no shortage of new music from artists like Drake and The Weeknd, along with noteworthy collaborations from The Chainsmokers and Halsey to Flume and Kai, industry mainstays and newcomers alike have done their part to keep fans sane and stimulated over the last twelve months.
Listen to 21 of the best songs 2016 has to offer in the playlist below.
Tracklist:
Frank Ocean — "Be Yourself"
AURORA — "Conqueror"
ZAYN — "PILLOWTALK"
Mitski — "Your Best American Girl"
Radiohead — "Burn the Witch"
James Blake — "I Need A Forest Fire" (feat. Bon Iver)
Ariana Grande — "Dangerous Woman"
The Chainsmokers — "Closer" (feat. Halsey)
Flume — "Never Be Like You" (feat. Kai)
Desiigner — "Panda"
Angel Olsen — "Shut Up Kiss Me"
David Bowie — "Lazarus"
Childish Gambino — "Redbone"
Bon Iver — "22 (OVER SooN)" 
Lady Gaga — "Million Reasons"
Drake — "One Dance" (feat. WizKid and Kyla)
Chance The Rapper — "All Night" (feat. Knox Fortune)
Bastille — "Good Grief"
Kanye West — "Ultralight Beam"
The 1975 — "Somebody Else"
The Weeknd — "Starboy" (feat. Daft Punk)