'Arrow' season 5, episode 10 promo: Did the trailer spoil the fall finale's cliffhanger?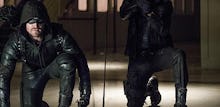 After a largely disappointing fourth season featuring a bit too much of the supernatural, Arrow has returned to form in season five with Oliver Queen doing battle against the mysterious Prometheus. The CW's hit series aired an extremely strong midseason finale with a compelling cliffhanger: Has Laurel Lance returned from the dead? 
While Prometheus' identity has spurred much fan speculation, Katie Cassidy, who plays Lance, had a surprise return at the end of episode nine — an unexpected twist that brought with it a whole new crop of questions for series fans. 
Fans of Arrow know Lance was killed by Damien Darhk during his prison break in season four. Lance appeared in Arrow's 100th episode — as part of several characters' shared hallucination — but now looks to be returning in the flesh. Or is she?
Has Laurel Lance returned? In a sense...
There are several possibilities to explain Lance's appearance at the end of Arrow's fall finale. She could have been resurrected using a Lazarus Pit; she could be a hallucination; she could maybe be Laurel Lance from another Earth. 
The CW's new promo for episode 10 would certainly have us believe it is the latter. Specifically, it appears that Black Siren — the Laurel Lance from Earth-2, who first appeared on The Flash — is who showed up at the end of the fall finale. 
Check out the promo for season five's 10th episode below: 
Arrow returns to The CW at 8 p.m. Eastern on Wednesday, Jan. 25.