'Star Wars' actress Carrie Fisher dies at 60: Celebrities turn to Twitter to say goodbye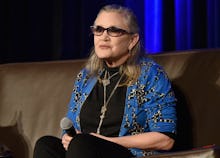 People reported that Star Wars' actress Carrie Fisher died at the age of 60 after having a heart attack on Friday. The actress, who is best known for portraying Princess Leia Organa in the Star Wars franchise, had been in intensive care for several days. 
The news broke to People via a statement by family spokesperson, Simon Halls, who stated on behalf of Fisher's daughter, Billie Lourde, "It is with a very deep sadness that Billie Lourd confirms that her beloved mother Carrie Fisher passed away at 8:55 this morning." 
"She was loved by the world and she will be missed profoundly," Lourd said. "Our entire family thanks you for your thoughts and prayers."
Already, fans and celebrities are reacting with shock and sadness, heading to social media to say their goodbyes. Here are some of the latest reactions: