6 Carrie Fisher quotes that show why we'll miss her so damn much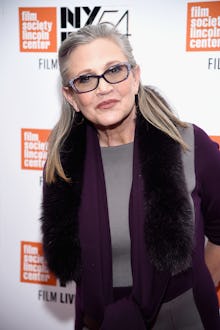 Days after experiencing a massive heart attack, iconic Star Wars actress Carrie Fisher has died. She was 60.
While her role as Princess Leia brought her worldwide renown, Fisher was also known for being outspoken about mental illness and addiction — and for being an all-around bad-ass feminist.
Here are five quotes that have us already missing the actress:
On not being ashamed of mental illness
Fisher had long been open about her struggles with bipolar disorder and drug addiction.
In an interview with ABC News, Fisher said she isn't ashamed of her mental illness.
"I am mentally ill," she said. "I can say that. I am not ashamed of that. I survived that, I'm still surviving it, but bring it on."
On being strong through mental illness
In her book Wishful Drinking, Fisher discussed the strength it takes to deal with mental illness.
"At times, being bipolar can be an all-consuming challenge, requiring a lot of stamina and even more courage, so if you're living with this illness and functioning at all, it's something to be proud of, not ashamed of," Fisher wrote.
On ageism and body positivity
After some criticized Princess Leia for "not aging well," Fisher hit back with an epic tweet, saying, "My BODY hasn't aged as well as I have."
"Youth and beauty are not accomplishments," she added.
On being the bad-ass beginning of "girl power"
During the press tour for The Force Awakens in 2015, Fisher discussed what her iconic character meant for "girl power."
 "I am the beginning with 'girl power' — deal with it," she said.
On Donald Trump
Two days before the election, Fisher had some strong words for president-elect Donald Trump.
On death
In a recent Rolling Stone interview following the release of her memoir, The Princess Diarist, Fisher said she did not fear "death," but "dying."
"I fear dying," Fisher told the magazine. "Anything with pain associated with it, I don't like. I've been there for a couple of people when they were dying; it didn't look like fun. But if I was gonna do it, I'd want someone like me around. And I will be there!"