Carrie Fisher's daughter, 'Scream Queens' star Billie Lourd, releases statement on death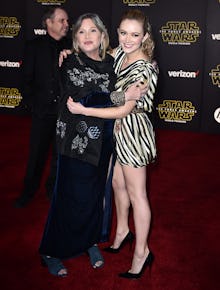 Scream Queens star Billie Lourd has released a statement after the death of her mother, Carrie Fisher. Fisher, who portrayed Princess Leia in the Star Wars franchise, died Tuesday morning at the age of 60.
"It is with a very deep sadness that Billie Lourd confirms that her beloved mother Carrie Fisher passed away at 8:55 this morning," reads a statement from the family's rep, Simon Halls.
People also published a statement from Lourd:
"She was loved by the world and she will be missed profoundly. Our entire family thanks you for your thoughts and prayers."
Fisher was hospitalized on Friday after having a heart attack while on a flight from London to Los Angeles. Sources told TMZ that the medical emergency occurred 15 minutes before the flight landed. Fisher was rushed to UCLA Medical Center, where she was put on a ventilator. Lourd was photographed at the hospital on Friday with her mother's beloved French bulldog, Gary.
Fisher and Lourd appeared together in Star Wars: The Force Awakens. Lourd made her appearance as Lieutenant Connix. She's set to reprise her role in Star Wars: Episode VIII.
Lourd's father is talent agent Bryan Lourd.