PC Games 2017: Release dates, pricing and details on the biggest upcoming PC video games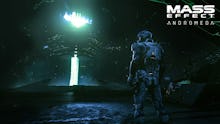 Console gaming on PS4 or Xbox One is nice and easy to use. Heck, you can even bring Pokémon and Mario with you on your phone these days! But when you want the cutting edge of gaming, a PC is the way to go. If you're willing to shell out some cash, you'll get a platform with more power and by far the widest variety of games available. 
If you're a serious PC gamer you're probably already looking ahead to 2017. Here are some of the biggest games coming to PC next year.
Divinity: Original Sin II 
$44.99, release date TBA
The original Divinity: Original Sin was a welcome return to the world of hardcore tactical RPGs for veterans as well as an accessible introduction to the genre for newcomers. With combat that's heavy on strategy and plenty of character customization, you can easily dump dozens (if not hundreds) of hours into these games.
The sequel brings even more to the table. It's actually available on Steam in Early Access right now, but the full release of the game is set for an undetermined date in 2017.
Nidhogg 2
Nidhogg is a bit difficult to explain. It's a side scrolling multiplayer game where two players essentially play tug of war by repeatedly killing each other with a variety of weapons as they try to reach the end of the level and feed themselves to a giant monster.
It's frenetic, tense and hilarious, a perfect game for a couch multiplayer session with your buddies. The sequel adds more weapons and a completely different, totally unique art style. Count us in.
LawBreakers
No set price or release date yet
The next game from the designer of Gears of War, Lawbreakers is a multiplayer first-person shooter where players choose from a diverse set of characters with unique abilities a la Overwatch. LawBreakers stands out thanks to a unique twist: the laws of gravity are being, well, broken in the game's futuristic maps. Zip around with impunity as you rack up kills in the game's chaotic multiplayer matches.
Warhammer 40,000: Dawn of War 3
No set price or release date yet
The Warhammer 40,000 universe is ripe with cool concepts for video games, from giant shoulder pads to chainsaw wielding Space Marines. The popular Dawn of War series of real-time strategy games is back with a third installment that introduces gigantic new units, devastating abilities and powerful elite squads to use in battle.
Mass Effect: Andromeda
The massively popular Mass Effect RPG series is back in early 2017 with Mass Effect: Andromeda. Like its predecessors, it's sure to be best experienced on PC.
Gone is Commander Shepard from the original trilogy, replaced as the protagonist by the male and female Ryder siblings. In a unique twist, whichever sibling you don't choose to play as will still appear as a character in the story. Explore a new frontier as humanity leaves the Milky Way and searches for life in the nearby Andromeda Galaxy.
Mic will be covering all these PC games and more as we head into 2017. Stay tuned!