Here's when marijuana shops will open in Massachusetts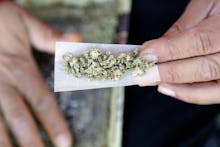 Marijuana shops are coming to Massachusetts, thanks to a vote on Election Day to legalize the recreational use of the drug. Proponents of the law, however, will have to wait a little bit longer before dispensaries start sprouting up around the state.
When will marijuana shops open in Massachusetts?
Massachusetts residents may not be seeing recreational marijuana shops any time soon.
The new law says stores selling recreational marijuana will be free to open their doors in Jan. 2018, according to Boston Magazine — but a three-person Cannabis Control Commission must also be formed before any real changes can be made. The commission will be charged with establishing regulations for the industry by Sept. 15, 2017, and accepting applications for potential stores by Oct. 2017. 
"If the world is moving toward recreational marijuana, then we have to do it correctly," Treasurer Deborah Goldberg, who is overseeing the state's new marijuana industry, said in a recent State House interview, according to the Boston Globe. "And I believe that we can."
She added, however, that "nobody wants to do this in a sloppy fashion."
What happened in other states? 
Massachusetts has some precedent to follow when it comes to the legalization of marijuana and the opening of retail stores. Colorado, for instance, legalized recreational weed in 2012, but didn't see stores open until early 2014, WWLP reported. The schedule is similar to the one Massachusetts has put into play.
While Goldberg has stressed the copious time it will take to safely implement the new law, Jim Borghesani, a spokesperson for Massachusetts' new law, said there's no reason it should take longer than it did in Colorado.
"Colorado had the same timeframe to write and enact its regulations — and they did it," he said, according to the Globe. "I just don't like the implication that Massachusetts is less efficient or less competent than Colorado, or any other state."
Should you expect a marijuana store in your neighborhood by 2018?
At this point, it is difficult to say when, exactly, these stores will be opening their doors. 
According to Wicked Local Quincy, Senate President Stanley Rosenberg said he believes most people agree the will of the voters needs to be respected by implementing the law — and "in a reasonable amount of time." Though Jim McGinn, town administrator, has said that this will not be "a free for all," he has also stated there is no question about whether or not recreational use will be legal. 
Remember, though, as of Dec. 15, it is legal to "possess, grow, and use" the drug in the state of Massachusetts ... just not to sell it.