What's leaving Netflix in January 2017? Here's the top 6 titles.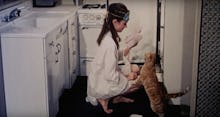 With a new month — and a new year — Netflix will be making its regularly scheduled purge. That means you may need to scramble to watch some of your favorites before you lose your chance to binge them on the world's most popular online streaming service for TV and movies. 
Here are six films you must watch before they leave Netflix in January, even if it's the last thing you do this year.
Breakfast at Tiffany's (Jan. 1)
In her iconic role as Holly Golightly, Audrey Hepburn portrays a woman who is far more nuanced than the stereotypical "party girl" she may seem to be — just proof that we're all more complicated than we may appear. As a strong woman in 1961, she wants self-actualization and independence, but societal expectations don't make it easy. She says it herself: "I'm like cat here, a no-name slob. We belong to nobody, and nobody belongs to us. We don't even belong to each other." Unfortunately, the movie isn't 100% "woke." Mickey Roonie's yellow face is downright offensive. Still, Breakfast is a cultural touchstone and an important reminder of a particular time in American history. 
Coming to America (Jan. 1)
In this 1988 John Landis comedy, Eddie Murphy plays Prince Akeem (in addition to a couple of other characters), the monarch-to-be who comes to America to escape his arranged marriage and search for the wife of his choosing. But he doesn't go just anywhere. He heads to Queens, New York with his bestie Semmi (Arsenio Hall) in tow. Things don't exactly go as planned when the prince and his friend end up working at a fast food restaurant — ahem, McDowell's — yet his romantic pursuit goes on. A Chicago Tribune review published when the movie came out called it "a sweet, oft-told story" with Murphy and Hall adding "a number of very sharp supporting roles — hidden by makeup — to add spice to the general level of gentleness."
Hairspray (Jan. 1)
John Waters' Hairspray tells the tale of race relations in Baltimore c. 1962 through the drama (and comedy) that ensues when teens suggest integrating a local televised dance competition. The movie stars Sonny Bono, Ruth Brown, and the legendary Charm City drag queen Divine. While the costumes and production design give the film a decisively retro feel, Hairspray's story is just as relevant today as it was when the movie came out in 1988. The story does take place in Baltimore, after all, and we're coming up on the two-year anniversary of the death of Freddie Gray. See how much has and hasn't changed since the Civil Rights era.
Bring It On (Jan. 1)
Anytime is a good time for a nostalgic teen comedy. Bring It On follows a top high school cheerleading squad as its members find out that its captain ripped off its best moves from an "inner-city" school. Now they have to figure out new routines to prep for the championships. Bring It On stars Kirsten Dunst, Eliza Dushku and Jesse Bradford. Like Hairspray, this movie has a lot of fun (Portland Oregonian's Kim Morgan called it probably the first "true" cheerleading movie), but there's a serious angle to Bring It On, too. Welsey Morris of The San Francisco Examiner wrote that in this story, "an army of rolled abs and their owners give the state of American race relations a beginner's workout."
Sixteen Candles (Jan. 1)
In this John Hughes classic, Samantha (Molly Ringwald) faces not just a blah 16th birthday but an embarrassing one. Nobody remembers her birthday because it's 1984 and Facebook notifications don't exist yet. Even if it weren't for that, Sam can't possibly compete with her sister's wedding. Warning: This movie has some very "of-the-time" racist moments that, while cringe-worthy, are another necessary reminder of America's history. Plus, it's a Brat Pack film and therefore a cultural touchstone. 
Saving Private Ryan (Jan. 1)
In the face of Aleppo, epic war movies like Saving Private Ryan are especially relevant right now. While this one takes place in World War II, the message still rings true today: War kills. This 1998 Steven Spielberg film stars Tom Hanks, Matt Damon and Tom Sizemore as a group of American soldiers go behind enemy lines to save a paratrooper whose brothers have been killed in action. Todd McCarthy of Variety called the "searingly visceral combat picture" a drama that is "arguably second to none as a vivid, realistic and bloody portrait of armed conflict."