How old was Carrie Fisher when she was in 'Star Wars'?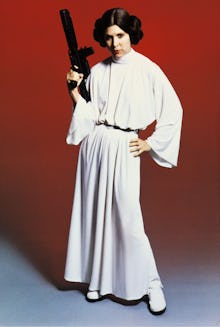 Star Wars fans are mourning the loss of Carrie Fisher, who died on Tuesday at the age of 60. The actress became a household name in 1977 when she debuted as Princess Leia Organa in Star Wars: Episode IV - A New Hope.
Fisher was just 21 years old when she portrayed Princess Leia. The role was her third on-screen credit, having previously starred in a TV movie in 1969 and a dramedy called Shampoo in 1975. But Fisher wasn't exactly new to Hollywood. Her mother is honorary Oscar winner Debbie Reynolds, and her father is singer Eddie Fisher.
Fisher went on to star in three more Star Wars movies, Episode V - The Emperor Strike's Back, Episode VI - Return of the Jedi and, most recently, The Force Awakens, which also featured her daughter Billie Lourd. Fisher will appear as Princess Leia one final time in Star Wars: Episode VIII, which has a 2017 release date. Filming on the upcoming movie concluded in July, according to Entertainment Weekly.
As previously reported, Fisher was hospitalized on Friday after having a heart attack on a flight from London to Los Angeles. Fisher was in stable condition at UCLA Medical Center Friday afternoon. A rep for the family confirmed to People that Fisher died Tuesday morning.