'Pokémon Sun and Moon Pokédex and official postgame guide get a 2017 release date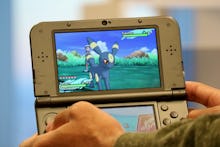 Pokémon Sun and Moon is finally getting an official Pokédex — along with a guide for all the postgame content in the latest Pokémon adventure. The Pokémon Company is set to release the new walkthrough early next year after offering a general strategy guide when Pokémon Sun and Moon first launched.
Pokémon Sun and Moon Pokédex details: All the Alola-region Pokémon and more
The Pokémon Sun and Moon Pokédex comes in paperback form for $21.36 or a hardcover edition for $33.12. Both versions of the guide will be released Feb. 28. However, you can pre-order them on Amazon right now.
Both guidebooks include a full list of Pokémon in the game, data on where you can find them and details on their evolutions, stats, moves and abilities. It also includes an "exclusive creator interview," a postgame walkthrough to help you catch more legendary Pokémon and a guide to finding the most important items in the game. Additionally, the hardcover copy comes with eight double-sided lithographs of concept artwork and a protective sleeve for storing them.
Pokémon Sun and Moon: What's in the postgame?
There's plenty more to do once you beat the main adventure in Pokémon Sun and Moon. You can team up with the Aether Foundation to track down and capture the mysterious Ultra Beasts. You can also catch Necrozma, a new legendary Pokémon, or check out the Battle Tree to hone your skills as a Pokémon trainer.
We're not sure what other postgame secrets might be included in the Pokémon Sun and Moon Pokédex and guide. It's possible there are still some hidden missions in the game no one has uncovered yet, but we should learn more once the books are released in February.
More Pokémon Sun and Moon tips, tricks, guides and cheats
If you're serious about Pokémon Sun and Moon, you'll want to read up so you can be the best. Check out our guides for picking the right starter, Pokémon Sun and Moon cheats, using a damage calculator, how to catch the new legendary Pokémon, how to get Munchlax and picking between Pokémon Sun and Pokémon Moon.