Watch Billie Lourd's 'Star Wars' tribute to mom Carrie Fisher in 'Scream Queens' season 1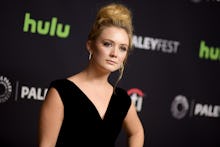 Scream Queens star Billie Lourd released a statement Tuesday afternoon announcing the death of her mother, Star Wars actress Carrie Fisher. The 24-year-old was at her mother's bedside at UCLA Medical Center on Friday following her hospitalization after having a heart attack on a flight from London to Los Angeles. The mother and daughter were close, concluding filming for Star Wars: Episode VIII this past summer.
Fisher, who died at age 60, first portrayed Princess Leia in the Star Wars franchise in 1977 with Episode IV: A New Hope. She went on to play Leia on the silver screen three more times, most recently in 2015's Star Wars: The Force Awakens. It was the first time that Fisher played the character in a film since Episode VI - Return of the Jedi. 
Lourd got to work alongside her mom when she joined the Star Wars universe as Lieutenant Connix in The Force Awakens. The two also got to film Episode VIII, which wrapped in July, together. However, Lourd never got to star alongside her mom on Scream Queens, despite expressing interest in having Fisher on as a guest star.
Lourd, who plays sorority-girl-turned-medical-intern Chanel #3 in the Fox series, revealed in an AOL Build event earlier this month that she was hoping to get her mom in an episode. "She could play someone who is convinced she's Princess Leia," she said. "That can be her disease. And then as a plot twist we could find out that she actually is Princess Leia."
The Scream Queens season two finale aired on Dec. 20, and a third season has not been announced, but Lourd at least got to pay tribute to her mother in season one. 
Fans of the series know that Chanel #3 wears ear muffs out of fear of an ex-boyfriend chopping off her ears. When the Chanels were arrested for the Red Devil's murder spree in the season one finale, Chanel #3 wasn't allowed to wear ear muffs in prison — so she used Princess Leia-like buns to hide her ears.
Jaime Lee Curtis, Lourd's Scream Queens co-star, posted on Instagram mourning Fisher. Curtis wrote a sweet message about Fisher's "spirit and talent" living on through Lourd.