Chrissy Teigen makes dreams come true by sending Twitter fan one of her dresses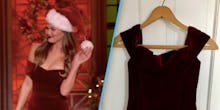 On an ordinary Wednesday night in December, Rebecca Howe was at home watching the TV show Lip Sync Battle, hosted by Chrissy Teigen. On this particular episode, Teigen danced around in a short red velvet dress with off-the-shoulder sleeves and a sweetheart neckline — and Howe was smitten.
So the next night, with the dress was still on her mind, Howe did what many of Teigen's fans do, and tweeted the model directly about it. 
"But seriously when you're done with that red dress from this week's [Lip Sync Battle] can I have it please?" Howe asked.
Unlike most fans, though, Howe got a response. 
"I am done," Teigen wrote back just two minutes later. "DM me your address!" 
As Howe noted in a blog post chronicling the conversation, the exchange alone made headlines, with write-ups in Refinery29, Cosmopolitan and People. 
"I really didn't think this many people would be interested in the story," Howe said in an interview with Mic. "I mean, I'm a recent graduate from college about to start a full-time position in a small town known for its glass-making, and this kind of stuff doesn't happen to me. I mean I barely ever win a raffle, so it's pretty awesome. When I first researched my name with Chrissy's name, my jaw dropped because it I didn't think it would be picked up overnight. I just couldn't believe it."
Two days after the exchange, Howe got another surprise: On the morning of December 24th, the dress arrived in a box at her home. 
"Getting the dress was not something I was expecting," Howe, who's in her early 20s, said. "When I got that box, I was so excited and was smiling ear to ear. I opened the box, I thought, 'There it is!' And was happy that it was even prettier in person."
She immediately slipped it on, finding that it was just one size smaller than she is now. According to Howe, that doesn't so much discourage her, but inspire her to lose just a few more inches, which she was hoping to do anyway before New Year's Eve, committed to losing some of the weight she put on in college.
"When I walk into my closet, it just reminds me that this actually happened," Howe said. 
This isn't the first time Teigen has come to a fan's aid on Twitter. Back in July, a fan tweeted about going on Amazon to buy a blender, but choosing to buy Teigen's cookbook instead. "Ima send u a blender dm me your address," Teigen tweeted back at the fan. 
A few days later, a $400 blender arrived on this person's doorstep, wrapped in paper printed with Teigen's face. 
Is Teigen actually Santa? 
All signs point to yes. 
For Howe, Teigen's gifted her something even better than a killer dress: A bit of motivation to have a stellar New Year's Eve.
"I guess I can't be an old soul this year and struggle to stay awake for the ball to drop at home with my boyfriend now that this happened," Howe said. "I plan on wearing [the dress] out and about and going to a few of my favorite places in town."