Mark Hamill, other 'Star Wars' cast members respond to Carrie Fisher's death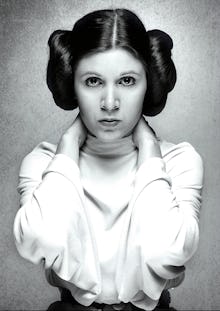 The passing of Carrie Fisher has spurred an outpouring of love on Twitter from fans and celebrities alike. From Ellen DeGeneres and Seth MacFarlane to William Shatner, Jon Favreau and many more, Hollywood is pressing pause on the holidays to remember a woman who brought joy and entertainment to countless Star Wars fans with her iconic role as Princess Leia. 
Star Wars cast members, too, are joining the chorus to raise up Fisher and her legacy, which has already stood the test of time and will serve to keep her memory alive for years to come.
Mark Hamill, who played the legendary Luke Skywalker, took to Twitter with a simple but powerful response to Fisher's death.
Anthony Daniels, the man who helped bring C-3PO to life, wished for Fisher's recovery following the announcement of her Dec. 23 heart attack and expressed his sadness after she passed.
Peter Mayhew, who played the part of the mighty Chewbacca, took to Twitter with a message and throwback photos.
Samuel L. Jackson, who played Mace Windu, left a fitting tribute.
Andy Serkis, the voice behind the mysterious Supreme Leader Snoke, plans to see Fisher in another life.
Gwendoline Christie, who played Captain Phasma in 2015's Star Wars: The Force Awakens, simply said, "We've lost our Princess." 
Saw Gerrera's portrayer, Forest Whitaker, posted a message to Twitter along with an iconic image of Fisher.
Fisher died Tuesday morning at the age of 60. She was hospitalized Friday after suffering a heart attack onboard a flight from London to Los Angeles. After the plane landed, Fisher was rushed to the hospital and placed on a ventilator. 
Fisher's daughter, Billie Lourd, confirmed her mother's death in a statement to PEOPLE: 
"She was loved by the world and she will be missed profoundly. Our entire family thanks you for your thoughts and prayers."