'Pokémon Go' Legendary Birds Update: Will Articuno be released by New Year's Eve 2017?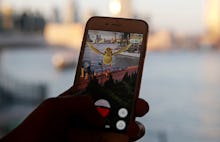 As we enter the second calendar year of Pokémon Go, one huge question remains about the smash-hit mobile game: Where are all the legendary Pokémon? Specifically, where is Articuno, clearly the coolest — pun absolutely intended — of the three legendary birds?
Pokémon Go developer Niantic hasn't made any official announcements regarding Articuno and the other legendary birds, but with 2016 winding down, Mic is here to speculate about the company's plans for 2017.
Where is Articuno in Pokémon Go?
The three legendary birds — Articuno, Moltres and Zapdos — are nowhere to be found in Pokémon Go. The same goes for Mew and Mewtwo. Six months after the game was released, we still have no idea when we will see any of the famous Pokémon show up on our smartphones.
When players choose a team, each team is visually tied to a different legendary bird, but so far the teams haven't rewarded players with the aforementioned creatures. One player reportedly caught an Articuno back in August, but this has never been replicated or verified as officially doable in the game. 
Eurogamer makes the solid point that developer Niantic's previous game Ingress held special community events at specific locations around the world. Pokémon Go already held a similar event earlier in 2016, increasing the number of Lapras available in one part of Japan.
This is pure speculation on our part, but it would be an appropriately high-stakes move to require Pokémon Go players to come together and do some work to get the legendary birds. Of course, that's also likely to put players outside of big cities at an even bigger disadvantage than they already are.
If we do, indeed, see the addition of legendary Pokémon like Articuno to Pokémon Go in 2017, it seems reasonable Niantic would release them alongside some kind of spectacle.
Pokémon Go Articuno: Could the legendary bird arrive this year?
Articuno probably won't arrive in Pokémon Go until at least 2017, but there's still a chance Niantic could release the legendary bird before 2016 is over. The company is set to activate its New Year's event on Dec. 30, providing one last opportunity for a big surprise.
The New Year's event is only supposed to increase spawn rates for the starter Pokémon — Charmander, Bulbasaur, Squirtle and their evolutions — and double the time Lure Modules last, but Niantic seems to like surprising players with new, unexpected features. Releasing the frosty ice-type Pokémon Articuno during the coldest time of year, at least in some parts of the world, also makes thematic sense.
More Pokémon Go news, updates, tips and tricks
If you're ready to celebrate your Pokémon Go holiday, you may also want to check out Mic's other Pokémon Go content. Here are guides on how to catch Gen 2 baby Pokémon, the 98 Gen 2 Pokémon that have yet to be added to the game, how to catch Pikachu and his adorable new Christmas hat, our analysis of post-update Chansey and Rhydon, everything you need to know about finding the long-awaited Pokémon Ditto, how to create new PokéStops, how to maximize your chances of catching Pokémon and how PokéStops distribute Pokémon eggs.