Will Carrie Fisher be in 'Star Wars: Episode VIII'? A list of her post-death appearances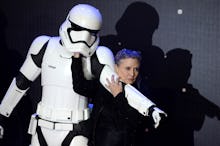 Actress Carrie Fisher died Tuesday at the age of 60. Fans and fellow Hollywood stars took to social media to mourn the Star Wars icon, whose legacy will live on through her daughter, Billie Lourd, and many TV and movie roles.
Here are the projects to which Fisher was attached prior to her death:
Star Wars
Fisher had been playing Princess Leia since 1977's first Star Wars film, Episode IV — A New Hope. She reprised the role in 1980 for Episode V — The Emperor Strikes Back and in 1983 for Episode VI — Return of the Jedi. The series made a triumphant return to theaters in 2015 with The Force Awakens, which found Leia dropping her title of "Princess" in favor of "General." 
Following the success of The Force Awakens, Fisher signed on for two more Star Wars movies, including 2017's untitled Episode VIII. According to Variety, filming concluded in July, which means fans will get to see the actress as Leia one last time. The movie is reportedly in post-production. 
Variety reported it's likely Leia's absence won't be addressed until the ninth film, Episode IX, starts shooting in 2018. 
Family Guy
Fisher had a recurring role on Fox's Family Guy as Angela, Peter's boss at the Brewery. Show creator and voice actor Seth MacFarlane has not commented on how the series will address her death, but he did post a touching message to Twitter on Tuesday afternoon.
Catastrophe
The actress had a small role in the Amazon Prime series Catastrophe. Variety reports Fisher concluded filming for the third season, which will premiere in early 2017.
Wonderwell
IMDb has Carrie Fisher attached to a 2017 movie called Wonderwell. The film is about a 12-year-old girl who travels through a magical portal to "get her wish to grow up." Director Vlad Marsavin has not commented on whether filming for Fisher's role was completed prior to her death.