New Year's Eve 2017 celebration ideas that don't involve alcohol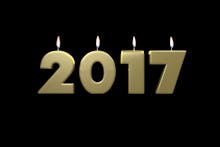 New Year's Eve is one of the holidays most associated with drinking and making merry — oftentimes to excess. But whether you're staying sober this year, you're partying with the kids or you have just chosen not to imbibe, there are plenty of other celebration ideas you can employ as we bid farewell to 2016 and hello to 2017. 
Eat 12 grapes at midnight
The practice of eating 12 grapes at midnight is common among Spanish-speaking people and countries, according to History.com. The grapes symbolize the hope the person has for the new year and each of its 12 months, and in some cases, people even create 12 wishes, one for each grape, as they devour them. As stated by Food Republic, in Spain, the grapes are eaten as quickly as possible in order to bring good luck, adding an element of superstition to the tradition. 
Make New Year's bags 
This can be an especially enjoyable option for families with kids, but it could even be great for adult parties too. Disney Family says you can have lots of fun by creating New Year's bags that are meant to be opened each hour and contain a different activity. Happy Home Fairy states you can fill the bags with many different items like:
- A new movie to watch
- Puzzles 
- Activity sheets 
- Candy 
Essentially, you can fill them with whatever you think your group of friends or family will enjoy. Just don't forget to make an 11:55 PM bag that contains noisemakers and confetti. Speaking of which ...
Make some noise
You don't need to be drunk to get loud on New Year's Eve! Making or buying noisemakers and running through the house blasting on your horn is still fun without the added element of alcohol. And, if you and your friends play instruments, why not strike up a tune as the clock strikes midnight? 
Attend a marathon AA or NA meeting
Because New Year's Eve can be a difficult time for many recovering addicts, organizations like Alcoholics Anonymous and Narcotics Anonymous often hold marathon meetings. These last longer than regular meetings and revolve around the difficulty of not drinking during the holidays, according to Bustle. You can find AA meetings in your area on their website.  
Host a potluck
If you want to have your own New Year's Eve soiree but are short on cash and nervous about people bringing or expecting alcohol, host a potluck. That way, you can find out what everyone is bringing and ask politely that no one brings any booze. You and your friends can still gather together and enjoy good food and good company while you ring in the new year. Here are some ideas on how to throw a party when you and your friends are young and broke. 
Have brinner 
One of the treats of New Year's Eve is staying up all night and eating fun foods you don't normally get to eat. So, instead of the traditional finger food, why not get together with your closest pals and make breakfast-for-dinner or brinner? Is there really anything better than singing "Auld Lang Syne" with your mouth full of bacon? 
Make New Year's resolutions 
If you're alone on New Year's Eve, it can help to buy a journal and start writing in it on the night of Dec. 31. You can list all the resolutions you'll be making and why. If you're with friends, it can help to announce your resolutions to them because that way, they can hold you to your promises. 
Celebrate your way
One of the best things about New Year's Eve is you can celebrate it however you like. If you're choosing not to drink this year, you can still go out and party with friends and have a good time, or you can stay in. You may want to go to a theme park or to just go for a walk with a loved one. No matter how you choose to observe the end of 2016, remember you are just as entitled to having a good time as everyone who is going to be drinking on the holiday and that you have just as much to celebrate.