Twitter is dragging Cinnabon for using Carrie Fisher's death as a "brand opportunity"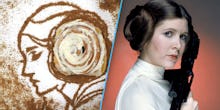 Following news of Carrie Fisher's death Tuesday, Cinnabon attempted to pay homage to the actress by sharing a cinnamon-sugar rendering of Princess Leia featuring a cinnamon bun as a play on the character's iconic hairstyle. The now-deleted tweet read: "RIP Carrie Fisher, you'll always have the best buns in the galaxy."
It didn't go over so well. Twitter users criticized the company for exploiting Fisher's tragic death for the sake of a viral ad campaign. 
"When it comes to branding opportunities, this really was the icing," wrote CBS Sports columnist Jonah Keri on Twitter.
Other users followed his lead: 
After a seemingly staggering amount of celebrity deaths in 2016, many brands have tried finding meaningful ways to acknowledge the losses — with mixed results. 
When singer Prince died in April, brands saw an obvious opportunity: Bathe everything in purple. 
Whiskey manufacturer Maker's Mark brought back its purple-dipped bottle in tribute to the "Purple Rain" singer. According to Adweek, Cheerios tweeted and deleted an image that said "Rest in peace" on a purple backdrop with a Cheerio dotting the 'i.' Hamburger Helper deleted its tweet, too, written from the perspective of its mascot, a white glove: "Prince was the don of Minneapolis. Respect to the home team. A glove can only take so much sadness."
"By all means, pay tribute to the man," Adweek concluded. "Just don't make it all about your brand." 
Cinnabon later deleted the tweet, and followed up with an apology:
Dec. 28, 2016 12:50 p.m. Eastern: This story has been updated.