Carrie Fisher's 'The Princess Diarist": 6 things to know about the late actress' memoir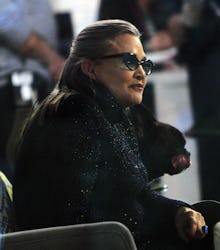 Carrie Fisher died on Tuesday, after having a heart attack on a plane on Friday.
Many people know the actress best as Princess Leia from the Star Wars franchise, and many other, younger individuals were just beginning to appreciate her humor and fiery spirit through Twitter. But Fisher's recent memoir, The Princess Diarist, is one you may want to pick up to learn a little more about the actress/writer and her time filming the iconic 1977 film. Here are 6 things to know about Diarist:
1. This isn't Fisher's first book.
According to USA Today, Fisher reminded us all about how she'd enjoyed "a second career as a writer" when, in November, she published The Princess Diarist, a memoir based on journals she'd kept at the time of filming the original Star Wars film in 1977. 
This wasn't Fisher's first foray into writing and publishing by a long shot. Though this newest book was based on the diaries she'd kept as a young woman, Fisher had already written and published her first novel and bestseller, Postcards from the Edge in 1987. The book was semi-autobiographical as well, focusing on her relationship with her real-life mother Debbie Reynolds. Fisher wrote more novels and memoirs over the years, enjoying a writing career almost as fascinating and varied as her acting one.  
2. The work can be understandably adolescent at times. 
According to Entertainment Weekly, "Star Wars fans are likely to have as curious and strained a relationship with Carrie Fisher's The Princess Diarist as the actress has with the films: a hope for something deeper, disappointment in its glibness, and ultimately a respect and grudging appreciation for the sincere emotion it represents." While this review was posted on Wednesday, two days before Fisher's shocking heart attack, EW cites their reasoning by explaining that the book reads "like a YA novel featuring the leads of Star Wars as its main characters." 
3. In it, Fisher reveals the details of her affair with Harrison Ford. 
Fisher's Star Wars co-star Harrison Ford was 33 when they filmed the movie and Fisher was only 19. Ford was also married and a father of two at the time, but Fisher's book marks the first time either party has openly discussed their relationship. An excerpt of the book quoted by People stated, "It was so intense. It was Han and Leia during the week and Carrie and Harrison during the weekend." 
4. She also reveals how having the affair made her feel. 
Though the Telegraph reported that, several years before releasing the book, Fisher was quoted as saying, "I went on the film saying, 'I'm going to have an affair,' like it was a kiwi, an exotic fruit, because I'd never had one," her reflections on the actual event are often sad. She mentioned how inexperienced she was and, although she called him "kind," she also felt that she couldn't possibly "satisfy" Ford.
5. The book reveals another exciting secret: the origin behind Leia's hair buns. 
According to the Chicago Tribune, fans who were looking for lots of behind-the-scenes secrets can revel in one revelation: "the origin story of Princess Leia's signature 'hairy earphone' hairstyle." Fisher admits that she and hair stylist Pat McDermott pored over many different options before coming up with the buns and laments, "There was no Lady Gaga to guide me."  
6. Like most princesses, Fisher doesn't get graphic. 
If you were hoping to read an X-rated version of Fisher and Ford's space affair or to get a play-by-play other sensational happenings, we're sorry, but this isn't the book for you. As the LA Times stated, "Thankfully, The Princess Diarist doesn't get dirty. There are plenty of heated moments and flowery phrases that glaze over [Fisher and Ford's] nights together, but this isn't that kind of book."