Obama's Pearl Harbor speech: "We must resist the urge to demonize those who are different"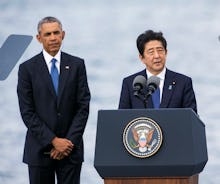 On Tuesday, Prime Minister Shinzo Abe appeared alongside President Barack Obama at Pearl Harbor, making him the first Japanese prime minister to visit the site of the 1941 attack in 65 years.
Though Abe didn't explicitly apologize for the attack, which resulted in the deaths of over 2,000 American soldiers and sailors, he said the Japanese have taken a "solemn vow" to never wage war on the United States again, according to CNN.
Obama returned the message of unity and peace, stating, "Today, the alliance between the United States and Japan, bound not only by shared interests but also rooted in common values, stands as the cornerstone of peace and civility in the Asian-Pacific and a force for progress around the globe, our alliance has never been stronger."
He added, "In good times and in bad we're there for each other."
In May, Obama became the first sitting U.S. president to visit Hiroshima, the city the U.S. leveled during World World II after dropping an atomic bomb there. Like Abe, Obama fell just short of apologizing for the attack, instead opting for a broader statement making clear his opposition to nuclear warfare.
"We may not be able to eliminate man's capacity to do evil, so nations and the alliances that we form must possess the means to defend ourselves," he said at the time. "But among those nations like my own that hold nuclear stockpiles, we must have the courage to escape the logic of fear and pursue a world without them."
Obama's May affirmation stands in stark contrast to his successor Donald Trump's recent call, via Twitter, for the U.S. to "greatly expand" the country's nuclear arms, which coincidentally followed President Vladimir Putin's statement that Russia was looking to do the same. After Putin shrugged off Trump's tweet, Trump told Morning Joe, "Let it be an arm's race; we will outmatch them at every pass." 
Trump also hinted at his appetite for nuclear power during his campaign, reportedly asking a foreign policy expert advising him three times why the U.S. can't just use nuclear weapons. 
Of course, any nuclear attacks Trump is interested in wouldn't be directed at Japan. Trump noted he was looking forward to "a great friendship" with Abe following a November face-to-face with the prime minister, which famously had his daughter Ivanka in attendance. Abe said at the time he felt confident he and Trump could "establish a relationship of trust."
Nonetheless, as CNN noted, some of Obama's Tuesday remarks could be read as a pointed dig at Trump. 
"It is here that we remember that, even when hatred burns hottest, even when the tug of tribalism is at its most primal, we must resist the urge to turn inward," Obama said at the Pearl Harbor memorial site. "We must resist the urge to demonize those who are different."