When is the Chinese New Year? 2017 dates and what to know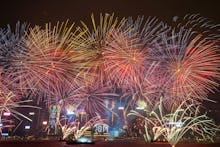 The Chinese New Year, also known as the lunar new year, will be celebrated around the world starting on Friday, Jan. 27 (the eve of the lunar new year). 
The Chinese New Year officially begins on Saturday, Jan. 28. The standard public holiday in China is seven days — New Year's Eve to day six of the lunar calendar, or Feb. 2, 2017. 
Chinese New Year celebrations traditionally end with a Lantern Festival on the 15th day of the lunar year, or Feb. 11, 2017. The two week celebration will welcome in the year of the Rooster.
In the Chinese zodiac, the Rooster is the tenth zodiac of a 12-year cycle. 2017's This year's Rooster will be the first Fire Rooster in 60 years. According to Chinese five element philosophy, this year's Rooster is a Fire Rooster. It will be another 60 years for the Rooster to match with the fire sign. If you were born in 1957 or are born after Jan. 28, 2017, your Chinese zodiac and element pairing is a Fire Rooster, which is characterized as "trustworthy, with a strong sense of timekeeping and responsibility at work."
If you were born on a Rooster year (1933, 1945, 1957, 1969, 1981, 1993, 2005), Chinese tradition states this will be an unlucky 12 months for you. According to Chinese astrology, people in their zodiac birth year (Ben Ming Nian) offend Tai Sui, the God of Age, which brings nothing but bad luck. 
But don't let that dampen your spirits. There's plenty you can do to ward off bad luck, including wearing red clothing and jade jewelry and facing in the right direction.