These 11 TV shows were the best of Netflix's 2016 original programming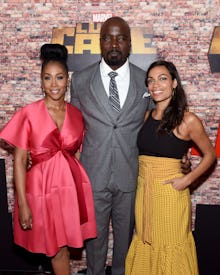 In February 2013, Netflix premiered all 13 episodes of House of Cards season one. The series, a political thriller starring Kevin Spacey, became Netflix's first original program, and has been nominated for several high profile awards since its debut. Over the past several years, Netflix has continued adding to its library of original programming, and 2016 just may have been the best year yet. 
In 2016 alone, Netflix debuted over 50 new programs, including docuseries, reality series, stand-up specials, foreign language series, comedies and dramas. Netflix also aired an addition to the Marvel Cinematic Universe this year, as well as revivals to some fan favorite television shows chock full of nostalgia. 
While it would be nigh impossible to get through all of Netflix's 2016 new additions before New Year's, settling for the best of the bunch is quite doable. As such, here are the best original shows, in no particular order, that Netflix debuted this year. 
Marvel's Luke Cage
Following Daredevil and Jessica Jones, the latest installment in Marvel's slate of Netflix series is Luke Cage, starring Mike Colter as the titular character. Like Daredevil and Jessica Jones, Luke Cage was very well received, earning a 96% from Rotten Tomatoes, with an 88% audience score. 
Luke Cage moved the action from Hell's Kitchen to Harlem, bringing a fresh new tone to the Marvel Universe. The show was noted for embracing Cage's comic book roots in blaxploitation. Whether Luke Cage is the best Marvel series thus far is up for debate. What is clear, though, is that Marvel hit yet another home run on Netflix. 
The Crown
In November 2016, Netflix premiered all 10 episodes of The Crown's first season. The series, which explores Queen Elizabeth II's reign, is set to run six seasons (10 episodes each), spanning from 1947 to present day. The Crown's first season holds a 90% on Rotten Tomatoes, with users just as satisfied. 
The Crown has already garnered several awards and nominations for its stellar first season. John Lithgow, who plays Winston Churchill, won a Critics' Choice Award and has been nominated for both a Screen Actors Guild Award and a Golden Globe. Claire Foy, who portrays Elizabeth, has also been nominated for a Golden Globe and Screen Actors Guild Award, while the series is up for best drama at the 2017 Golden Globes. 
Stranger Things
Stranger Things pays homage to several works from the '80s — Spielberg, particularly — and tells a story of a group of children who try and discover the circumstances surrounding their friend's mysterious disappearance. Along the way, they meet Eleven, a girl with peculiar abilities.
The series has an incredible 95% on Rotten Tomatoes from both critics and users and features a stellar ensemble cast that includes Winona Ryder, David Harbour, Finn Wolfhard, Millie Bobby Brown and several others. Ryder has been nominated for both a Golden Globe and a Screen Actors Guild Award for her role, and the series is nominated for best drama at the upcoming Golden Globes.
Lady Dynamite 
Along with Netflix's great dramatic additions, the service added several strong comedies to its library in 2016. One such comedy is Lady Dynamite. Starring Maria Bamford (as herself), Fred Melamed and Mary Kay Place, Lady Dynamite explores stand-up comic Bamford's struggle to rebuild her life while dealing with her mental illness. 
While the series has not received the same award recognition as some of Netflix's dramatic offerings, it does hold a 94% on Rotten Tomatoes from critics and was ranked highly by fans as well.
Love
Created by Judd Apatow, the man behind films like The 40 Year-Old Virgin, Knocked Up and Trainwreck, Love is a romantic comedy about developing a relationship. The series has been mostly praised for its realistic take on such an endeavor, with Rotten Tomatoes' Critics Consensus reading, "Judd Apatow's Love is an honest look at building a relationship, helped along by its two appealing leads."
Fuller House
Is Fuller House really one of Netflix's best series from 2016? Honestly, probably not. Still, it deserves a place on this list for no other reason than its immense viewership. Variety reported the series' second season, which also premiered in 2016, saw a supposed ratings decline. But the rumor (Netflix does not confirm ratings) is that season one of Fuller House was the platform's most watched show — even beating broadcast and cable viewership of AMC's The Walking Dead, according to IndieWire.
The series has generally been maligned by critics for an over-reliance on nostalgia, a cheesy laugh track and poor acting. Fans of Full House, though, can't seem to get enough of the series, with Fuller House earning a 79% on Rotten Tomatoes compared to 32% from critics. To be frank, if you have not seen Fuller House, you probably can skip it. But if you are a fan of Full House, it is worth a peek. And for those wondering, Fuller House will be returning for a third season. 
The White Rabbit Project 
For fans of Discovery's Mythbusters, the former build team of Grant Imahara, Tory Belleci and Kari Byron tackle all new scientific challenges in The White Rabbit Project. 
The White Rabbit Project is not for fans of pure scripted television, but if you enjoy reality programs like Mythbusters and maybe want to learn a thing or two, it is worth a look. 
Black Mirror (season three)
Before you note that this list is only supposed to include new 2016 series, there's a loophole — season three of Black Mirror is a Netflix original, after the first two seasons were released by British broadcasting company Channel 4 (so it counts). Each episode of Black Mirror stands on its own, with mostly a different cast and new setting.
The third season holds a 93% on Rotten Tomatoes. Jurassic World's Bryce Dallas Howard, who stars in the first episode of the season, was nominated for a Screen Actors Guild Award for her performance. For fans of creepy sci-fi like The Twilight Zone, Black Mirror should definitely be on your watch list. 
Other solid options from 2016
This list would lose credibility if it included every series from 2016, so naturally, things had to be left off. Still, there are a few other shows that at least deserve a mention — and a watch if you are looking for something new. 
The OA
Netflix's answer to your Stranger Things withdrawal, The OA is a thrilling, yet weird, and at times confusing, look at the circumstances surrounding the disappearance of Prairie Johnson. 
Gilmore Girls: A Year in the Life 
Your favorite mother and daughter are back for just a little bit more. Like Fuller House, Netflix revived a beloved show from our past. Gilmore Girls: A Year in the Life consists of four roughly 90-minute episodes, each covering a season of the year. Fans of the original should absolutely check it out. 
Trollhunters
Hellboy and Pacific Rim director Guillermo del Toro dived into the world of animation with Trollhunters, which premiered on Netflix right before Christmas. The series follows Jim Lake Jr., voiced by Anton Yelchin, who died earlier this year. Fans of del Toro's animated series should give this a chance. 
Mic has ongoing coverage of Netflix. Please follow our main Netflix hub here.