Times Square New Year's Eve Ball Drop Livestream 2017: Here's how to watch online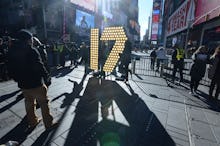 An estimated 1 million will gather in New York City's Times Square for the New Year's Eve ball drop to countdown to 2017. The annual tradition that began in 1907 — over 100 years old! — is one of the most popular and iconic New Year's Eve festivities for which people travel far and wide. The performances, surprise guests and energy of the crowd make it worth it. But if you can't be part of the reveling in person this year, here is how to watch the 2017 Times Square New Year's Eve Ball Drop livestream online. 
Livestream details
The Times Square Alliance is hosting their own webcast that can be watched here starting Dec. 31 at 5:55 p.m. Eastern. The organization also has a convenient mobile streaming option that allows you to watch the six-and-a-half-hour commercial-free webcast on your phone or tablet by downloading their Times Square Ball App. The app is available for free through Apple and Google Play stores.
For the first time, this livestream will be hosted by actor Jonathan Bennett along with co-hosts Andrea Boehlke and Jeremy Hassell. Performances, interviews with attendees and the iconic ball drop will be aired on the webcast as well.
The Times Square New Year's Eve 2017 event will feature performances from Mariah Carey, Gloria Estefan, Gavin DeGraw, Silentó, Don Omar and more. A full list of the scheduled entertainment is here. 
The star of the show, the New Year's Eve Ball, is made up of 2,688 Waterford Crystal triangles and can illuminate over 16 million colors. 
The evening celebrating the new year ahead looks promising and the ability to enjoy it from the comfort of anywhere through this livestream makes it even better.