'I Am Michael' release date, cast, plot and more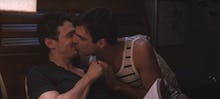 I Am Michael, starring James Franco as a gay activist turned Christian pastor, will finally be hitting theaters soon after premiering at Sundance in 2015. The film adaptation of Michael Glatze's life as a former gay activist focuses on Glatze's struggle to come to terms with his sexual identity amid the ex-gay movement.
I Am Michael release date
I Am Michael hits U.S. theaters and is available for digital release on Jan. 27. 
I Am Michael cast
As Zachary Quinto and Emma Roberts' characters attempt to find their place in Michael's life, they become entangled in his plight for religious reformation amidst his renouncement of homosexuality. While Bennet, played by Quinto, struggles to understand his partner's newly discovered heterosexuality, Glatze's young Christian wife Rebekah played by Roberts, also struggles with his supposed reformation. Having previously played roles as gay characters in Milk and American Horror Story, both Franco and Quinto have portrayed characters that shed an intimate and meaningful light on sexuality and members of the LGBTQ community.  
I Am Michael plot
Written and directed by Justin Kelly and executive produced by Gus Van Sant, I Am Michael is based on a 2011 New York Times article, "My Ex-Gay Friend" by former colleague Benoit Denizet-Lewis. Glatze and Denizet-Lewis worked together at XY, a San-Francisco based magazine for young gay men. In the article, Denizet-Lewis describes Glatze as an individual who was, "fast becoming the leading voice for gay youth" until announcing he was no longer gay in 2007. In an excerpt from the article, Glatze tells Denizet-Lewis:
Don't put your faith in some man, some flesh. That's what we do when we're stuck in the gay identity, when we're stuck in that cave. We go from guy to guy, looking for someone to love us and make us feel OK, but God is so much better than all the other masters out there.
Two years after making its January 2015 premiere, I Am Michael is being praised by critics as one of Franco's most "accomplished and complicated" performances to date. Watch the trailer below.