'Scream Queens' cast supports Billie Lourd and remembers Carrie Fisher with sweet messages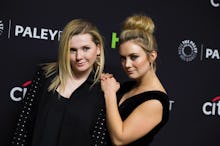 Carrie Fisher's daughter, actress Billie Lourd, is receiving support from her Scream Queens cast members following the death of her mother. Stars Jamie Lee Curtis, John Stamos, Lea Michele and more took to Instagram to remember the Star Wars icon and express their condolences.
"Oh how you loved telling stories about your mom — and I loved hearing them," John Stamos shared about the actress who plays Chanel #3. "I loved watching your face light up. You were so proud of her and she of you. She will live through you forever and we're all lucky for that. Love you Billie."
Jamie Lee Curtis shared a similar message for Lourd, writing on Instagram that, "My mother's heart goes out to this exquisitely talented young woman."
"Her mother's spirit and talent lives on in her and I'm sure all of Carrie's fans and friends will give her space and privacy," she added.
Lea Michele posted a photo of Lourd with her mother. "Holding my dear friend Billie, and her sweet mommy Carrie in my heart right now," she captioned the image.
Abigail Breslin shared a behind-the-scenes photo of Lourd from the Scream Queens set, explaining how her castmate looked like her mother.
"Both so beautiful," she wrote. "RIP Carrie, you were amazing... and thank you for making such an incredibly brave, kind and brilliant person who I'm lucky to call my best friend."
Taylor Lautner, who portrayed Chanel #3's love interest in season two of Scream Queens, used his Instagram to post a supportive note for his co-star.
"This girl is one of the strongest, most fearless individuals I've ever met," he wrote. "Absolutely beautiful inside and out. I'm lucky to know you @praisethelourd."
Fisher died on Tuesday after being hospitalized late last week. The actress had a heart attack while on a flight from London to Los Angeles, and was put on a ventilator at UCLA Medical Center.