You can pay $191,000 to stay in 2016 longer if you like torturing yourself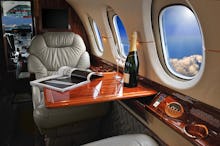 We, as a society, reached a consensus months ago: 2016 has been the worst.
Had the tumultuous 2016 presidential election not convinced us of this fact, perhaps the merciless spate of celebrity deaths did. Or the Brexit vote. Or the clown sightings. Needless to say, most people are looking forward to 2017.
But if you're feeling particularly masochistic, you can opt to stay in 2016 even longer by spending New Year's Eve aboard a private jet whose journey from Sydney to Los Angeles will let you ring in the New Year twice.
It'll only run you $191,000.
According to CNN, the private jet booking company PrivateFly is offering such a deal for the second consecutive year. So far, no one has emptied their pockets for the one-way flight, but Carol Cork, the private airline's marketing director, said she's holding out for spontaneous adventure-seekers. 
"On a day-to-day basis people tend to book four to five days ahead of flights," she told CNN. "A lot of people booking private aviation don't like to think ahead, so it wouldn't surprise me at all that we'll be booking flights up to New Year's Eve."
The company provided would-be New Year's Eve private flyers with a detailed itinerary, which begins at 8 p.m. local time in Sydney. PrivateFly suggests an exclusive party at the Sydney Opera House or a low-key dinner at the Park Hyatt Sydney. Whatever revelers' preference, they can ring in the New Year and then some before boarding their private jet, which takes off at 2 a.m.
What follows is a 13-hour flight to Los Angeles during which time "dedicated party animals" can continue the celebration onboard, while the mere mortals can rest up in the plane's private bedroom. 
When party-goers touch down in Los Angeles it'll be 7 p.m. Pacific on Dec. 31, 2016, which means the New Year's Eve party starts all over again.
Hey, it could be the best time of your life — or just the worst hangover.