7 apps that could help you save more money in 2017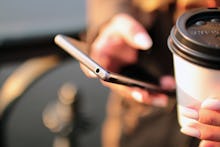 New year, new you, right? 
Fixing your terrible financial habits — by stashing away money for retirement, lowering your tax bill, you know the drill — is often near the top of New Year's resolution lists. This especially applies to millennials aged 18 to 24, who have a particularly hard time saving as much as they need. 
Studies show that while everyone knows they should be saving more, your measly paycheck — and human nature — mean saving is, inevitably, easier said than done. 
Luckily, the explosion of finance-based apps means there are more tools than ever at your disposal when it comes to tracking your spending or straight-up automating your financial goals. Mic combed through the latest money apps to find the best options for everything from saving more to finding the best deals and the cheapest flights. 
So, get to downloading and let the New Year's resolutions begin. 
For the anxious budgeter.
Named after the friendly lady who lives in the app — Penny — this app offers personal finance assistance and helps you track your expenditures with nudges about how and where to improve your spending habits. 
According to the app's website, "Whenever you chat with Penny, she shares important and fun information about your finances with you."
For the spendthrift. 
Inspired by new parents looking to flip their kids' outgrown clothes, OfferUp streamlines peer-to-peer commerce into one app. That way, you can buy that jogger stroller on the cheap from your neighbor and then sell it to the next pregnant couple on your street one year from now. 
As the app's site explains, "Americans spend trillions of dollars each year on new stuff, billions each year on storage units, and every day, they throw tons of their stuff away." 
It's not only cost-effective, but it's good for the environment, too — OfferUp reduces the demand for new merchandise and the likelihood it'll be tossed in a landfill shortly after being purchased. 
For those who need rules. 
This clever app — backed by the Federal Deposit Insurance Corporation — helps you create your own financial goals and save money in an FDIC-insured Qapital account. 
With the app's help, you can create your own financial rules. For example, you can round up every credit card purchase to the next dollar, save the extra pennies and watch them add up. You can set aside a certain amount of money for "guilty pleasures," like a weekly Starbucks limit, and save a set amount every time you break your own rules. 
For those who buy bobbles and trinkets. 
In short, Saveapp helps you spend less and save more by offering tips on how to best plan your finances and encouraging you to redirect your money toward saving for bigger things.
You can customize Saveapp to be as pesky as you like — it can send you regular reminders regarding your finances if that's what you need to keep you in line. 
For those who split bills.
This app allows you to send and receive cash using your debit card. It's free for personal transactions and charges a 2.75% fee for businesses. Square Cash is instantaneous and allows you to send requests for money, too, so you can make sure there are no outstanding debts owed you at any given time. 
Square Cash is sort of like Venmo, but its 4.5-star rating out of almost 20,000 reviews suggests it's doing something right. 
For frequent travelers. 
If you're a frequent traveler, Hopper is the app for you. It finds you the cheapest flights after scanning the interwebs — allowing you to book through the app itself — and even tells you what time of day is best to clinch the cheapest airfare. 
For those who have kiddos.
Got babies? Get this app. If you're going on a family vacation, this app will save you some major hassle. Instead of having to pack up strollers, car seats or any other cumbersome kid paraphernalia, goBaby creates a community marketplace in which to rent these items when visiting new cities. 
If you're flying to new places, shipping all those extra contraptions can cost a pretty penny, so you'll probably save yourself some money by renting this stuff for only the days you need it. It makes traveling with kids easier, too.
With the help of some sensible apps, saving money just got a whole lot easier  — and isn't that priceless?