Tax Season 2017: When are taxes due? Here are the most important deadlines.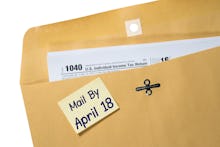 With the new year around the corner, it's time to begin that most revered of holiday traditions: itemizing your charitable contributions!
Okay, so not everyone gets super psyched about getting their year-end tax documents in line, but they really should. Many millennials forget to itemize, even though there are lots of things, like student debt interest payments and even old clothing donations that young people might be able to write off. 
Even if you have taxes withheld from your paychecks, there are still a few dates you need to keep an eye out for — not least of which is when you can expect to receive your refund. Here's a quick handy guide all culled from the good folks at the Internal Revenue Service.
Jan. 23, 2017: Filing begins
If you're really eager to get that refund, online filing for your 2016 taxes begins Jan. 23. Some online services may let you file even earlier, although they will sit on the information until the IRS begins accepting the forms. 
Feb. 2: Deadline to receive your W-2
The W-2 is the most important document you'll need to file your taxes — it's the proof you get from your employer stating how much money you made in the last year. You should receive the document unprompted by early February. If not, reach out to your HR department and figure out what the problem is. If you still haven't gotten your form by Feb. 14, call the IRS to follow up, since you may be eligible for an extension.  
April 18: The final deadline to file
For the second year in a row, the deadline to file your tax return falls after the traditional date of April 15, which falls this year on a Saturday. Luckily for all you procrastinators, that means you get Sunday to get your documents in line. 
When will I get my tax refund? 
The best way to make sure you get your refund quickly is to file online and select payment through direct deposit. In those cases, the IRS typically turns around your tax refund in around 21 days. 
There are some exceptions, for instance, if you're applying for the Earned Income Tax Credit. In those cases, the IRS won't begin processing returns until issued until a little later on Feb. 15th, meaning that the earliest you'll get your refund is on the week of Feb. 27. 
Lastly, if you're worried about paying your taxes, can't afford an accountant or accounting software, the IRS has lots of resources that you can access for free. In fact, about 70% of filers are eligible for IRS Free File, meaning that you can have your taxes prepared at no cost through a private provider like TurboTax. If you're really chomping at the bit, IRS Free File will be able to access your IRS Free File documents as early as Jan. 13.
So go forth, and may your tax refunds be ample. Just don't spend it all at once.