NES Classic: Nintendo NYC store offers limited stock for the special edition console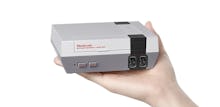 The NES Classic Edition is in stock again! Christmas may be over, but you might still be able to pick up the retro console if you head over the Nintendo NYC store right now.
Nintendo confirmed in a tweet that limited stock of the NES Classic will be available at its flagship New York store on Wednesday morning.
NES Classic in stock: How to get one
Nintendo is offering a limited supply of NES Classic consoles at its NYC store. The company also notes that it's limiting each guest to a single unit, which should hopefully keep the current stock from selling out immediately. Still, considering how scarce this device has been we wouldn't be surprised if it sold out within a few hours — or sooner.
If you're in New York and desperate for an NES Classic head to the Nintendo store. You'll likely have to line up and wait, but you may leave with the new retro console if you're lucky.
NES Classic Edition: What's inside
The NES Classic costs $59.99. It comes with 30 pre-installed games and a single controller. You can't add any more games, though it includes tons of classics like Super Mario Bros., Donkey Kong, Metroid and Pac-Man. You can also buy a second controller for $9.99 to play with a friend at home.
If you can't make it to the Nintendo NYC store, don't worry. This likely won't be your last chance to pick up the NES Classic. We just hope the company can start offering the device on a more reliable basis soon. We're getting pretty tired of these flash sales that sell out immediately.