New York mayor re-opens streets near Trump Tower to relief of suffering businesses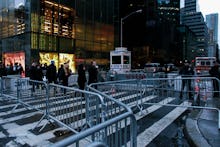 The traffic-snarling, business-dampening closure of one of midtown Manhattan's main drags ended Wednesday with New York City Mayor Bill de Blasio's announcement of the re-opening of part of West 56th Street near Trump Tower.
The scaling back on heightened security around the namesake skyscraper of President-elect Donald Trump quickly met with the enthusiasm of New York officials — including Manhattan Borough President Gale Brewer, who called the move a blessing for local retailers.
"I've met with some of these business owners, and they've told me that since their street was dead-ended, deliveries have become nearly impossible and customers have stayed away, costing them anywhere from 30% to 70% of their business," Brewer said in a statement.
De Blasio, a liberal Democrat and supporter of Hillary Clinton during this year's bitter presidential contest, has repeatedly acknowledged his mayoral responsibility to protect Trump against potential threats.
He's juggling that responsibility against his duty to maintain normal traffic and trade, along with safety, in the unusual circumstance of having an incoming president operating out of the center of a great metropolis, not to mention one who has attracted legions of both tourists and protesters to one of the nation's busiest crossroads.
"The safety of New Yorkers and of the president-elect are our top concern," de Blasio said in a statement Wednesday morning. "The changes we are implementing will maintain that security, while allowing for more movement in the area and addressing concerns raised by surrounding businesses."
"We will continue to examine and carefully confront the challenges presented by this unprecedented responsibility," de Blasio said. 
Specifically, de Blasio announced,
56th Street between 6th and 5th avenues will reopen to crosstown traffic, following several weeks of closure. In addition, the New York City Police Department will relocate their mobile command post from the southwest corner of 56th Street to the northwest corner of 56th Street. This will allow for the opening of the south side of 56th Street to one-lane thru traffic while still allowing the mobile command post to act as a traffic deterrent to keep vehicular threats at bay. 
A joint statement from the mayor, the NYPD and other government offices said that in addition to the hampering neighborhood commerce caused by the heightened security, a traffic study of West 57th Street showed eastbound drive times "had increased by over 20% with the closure of West 56th Street."
The announcement comes a day after authorities briefly evacuated Trump Tower while the president-elect himself continued his holiday meetings and break at his south Florida resort, Mar-a-Lago:
The incident turned out to be a false alarm.
But the alert laid bare the animus over the cost of protecting Trump and his tower that's been churning even before the real-estate mogul takes the presidential oath of office in Washington on Jan. 20: City officials told CNN after the election that the price tag exceeded $1 million daily, in part because Trump's wife, Melania, and young son, Barron, will continue to reside there for the immediate future.
When Sean Spicer, Trump's incoming press secretary, tweeted his thanks to the police after Tuesday afternoon's scare, de Blasio spokesman Eric Phillips had a snappy response:
As NBC put it, "The Twitter tiff reignites de Blasio's request that the federal government reimburse the city's $35 million to keep the president-elect safe through the inauguration. Congress has only offered New York City $7 million." 
De Blasio has taken the argument over funding past his governmental role into the realm of electoral politics. 
The mayor, who's up for re-election in 2017, also sent out an email to supporters with a link to a petition on his campaign website. There, he asks for signatures from those who agree: "The NYPD takes their role protecting the president-elect and his family very seriously, but we do not believe New York City residents should have to pick up the tab for that work."
De Blasio had what he called a cordial but "candid" meeting with Trump at the midtown tower shortly after the election. 
He told reporters afterwards that he'd promised the president-elect he'd keep an open mind despite their political differences, but had also made clear he objected to Trump's choice of Breitbart's Steve Bannon as a top advisor and to Trump's rhetoric on immigration and taxation.
The mayor also told the press that law enforcement and government agencies would pull together to work out a security plan that protected Trump, citizens and businesses alike.
City officials' Wednesday announcement suggested there's more to come.
"Protecting the president-elect while minimizing the impact to nearby businesses has required constant dialogue from everyone involved," NYPD Commissioner James O'Neill said via de Blasio's office. 
"We welcome the re-opening of 56th Street to increase pedestrian and vehicular movements in the area while still maintaining the security of the next president of the United States."