Arkansas high school teacher fired for calling the Obamas monkeys on Facebook posts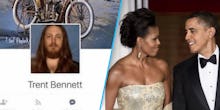 A high school teacher in Malvern, Arkansas, was fired on Thursday for making racially charged remarks on Facebook.
Trent Bennett, a teacher at Malvern High School, allegedly referred to President Barack Obama and first lady Michelle Obama as monkeys and "chimps" in a series of Facebook posts.
"Michelle Obummer ... America's First Chimp," Bennett wrote in one of his posts. The teacher has also referred to the first lady as a "nasty chimp" and called the president a "spider monkey," according to KARK-TV.
"As of today [Thursday], this person is no longer an employee of our district," Malvern School District Superintendent Brian Golden told Mic in an email.
Prior to Bennett's termination, the Malvern School District's official Facebook page issued a statement on Monday noting that no additional comment regarding disciplinary action taken against Bennett will be made until a full investigation has been completed. They referred to the alleged comments as "racially charged," "insensitive" and "inappropriate."
"In no way are these posts reflective of the District," the statement read. "The District is currently investigating the matter and due to privacy laws and regulations are not able to comment specifically on any details related to the investigation. The District takes this kind of activity very seriously and the appropriate measures will be taken once the investigation is complete."
Several community members have spoken against Bennett's comments. Rizelle Aaron, president of the Arkansas State Conference of the NAACP, urged for Bennett to resign, citing that a public high school is not the appropriate place for these comments. 
"There is no place in an educational system for someone in a public position of authority that is willing to publicly make the comments that you are alleged to have made," Aaron wrote in an email obtained by the Root. "If in fact you have made these racially charged comments, I respectfully request your immediate resignation from the Malvern Public School District." 
Tabitha Hughes, a 1991 Malvern graduate, told the Root she was disheartened by the news since Bennett teaches her nieces and nephews at the school. Hughes also believes Bennett should be removed from his position as a teacher.
"When he put that on Facebook, boldly, that was very disturbing," Hughes said. "Honestly, I don't think he needs to be teaching."
Dec. 30, 2016, 9:57 a.m.: This story has been updated.