'Marvel vs. Capcom: Infinite' character roster, release date, Infinity Stones and more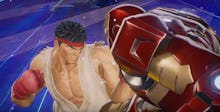 2016 has been a great year for fans of the great games of yore, with the NES Classic becoming a must-have holiday item. Earlier this month, they got an even greater gift with the announcement of Marvel vs. Capcom Infinite. Sure to be one of the biggest games of 2017, the next entry in the beloved line of frantic fighting games will almost certainly pack plenty of fast-paced, nonsensical action when it launches on Xbox One, PS4 and PC.
Not much is known about it just yet, but here is everything we've found out about Marvel vs. Capcom Infinite.
Marvel vs. Capcom: Infinite is set to be video game and comic book crossover event
Like the previous games in the series, Marvel vs. Capcom Infinite will bring together the worlds of, well, Marvel and Capcom. Marvel being the purveyors of astronomically popular characters like Iron Man and Captain America, and Capcom being the venerable game company that brought us Mega Man, Resident Evil and countless other franchises.
Capcom also created Street Fighter, which serves as a distant basis for the kind of gameplay you'll find in Marvel vs. Capcom Infinite. Put simply, it's a much faster, much more chaotic version of Street Fighter where you choose a team of two characters to engage in tag-team battles against another team of two. You can go all Capcom, all Marvel or mix and match in your team composition.
A major new gameplay addition is Infinity Stones, the magical rocks that show up all over Marvel lore. You can equip them and use them during battles to increase your strength, slow down time and perform other mystical, game-changing feats.
Marvel vs. Capcom Infinite: Confirmed characters are all heavy hitters
These games always have enormous character rosters, but for now, only a few have been confirmed. 
The Capcom side is headlined by Street Fighter icon Ryu, which is a no-brainer. He's joined by Mega Man X from the game series of the same name, which is a welcome sight for fans who were disappointed by the lack of any Mega Man in Marvel vs. Capcom 3. Last but not least, Morrigan from the long-dormant Darkstalkers series of fighting games rounds out the Capcom cast.
The Marvel side so far is populated by familiar faces. Iron Man and Captain America are widely recognized nowadays through their cinematic exploits, so they're confirmed for the game. Brie Larson's interpretation of Captain Marvel hasn't hit the big screen yet, but it looks like the beloved character is making her way to the game.
Marvel vs. Capcom Infinite: Plenty of single and multiplayer modes
According to the PlayStation Blog, there will be no shortage of things to do in this game by yourself and with your friends. 
An original storyline will be told through a "cinematic" story mode. Most interestingly, it will feature a new villain. Hopefully, they give the Green Goblin the t-Virus from Resident Evil or something cool like that.
Training, mission and arcade modes round out the game's single player content. As far as multiplayer goes, that side of the game will have all the expected features: Ranked and casual matches, as well as leaderboards lobbies with spectator features in case you want to watch players who are way better than you.
To see some footage of Marvel vs. Capcom Infinite, check out the trailer below.