9 new artists who made us tune in and turn up in 2016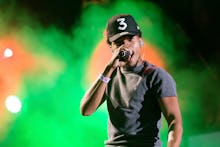 After all the major fails of humanity in 2016, many are declaring this year the worst ever and are looking for joyful takeaways from these past 12 months. In music, there were big losses as we said farewell to musical legends such as David Bowie, Prince and George Michael. 
Although their contributions could never be replaced, there were some new artists who caught our ears and made us turn up to their infectious tunes despite the chaos. From pop to hip-hop, here are several newcomers and emerging artists who delivered vibey mid-tempo cuts to heavy bass bumping tracks, allowing us some gratifying moments to shake off the stress while out at a party or even in our bedroom mirrors during 2016.
Kaytranada
Canadian DJ and producer Kaytranada's debut album 99.9% was the upshot of his growing popularity via touring major music festivals and his style of infusing R&B, hip-hop and pop records with disco-infused sonics that eventually yield a more danceable product. Before releasing his album this year he provided sounds for The Internet and Chance the Rapper and went viral with several remixes.
"All the songs I've been working on for two years have a signature sound. There's a lo-fi sound," Kay told FACT about his debut. "And the way they're mixed, it's not badly mixed, but I like listening to Prince and Michael Jackson demos, that's where my inspiration comes from. Sometimes you can polish things too much, you can go too far," Kay explained of his creative process. 
DNCE 
Former boy bander Joe Jonas found new life by teaming up with Jack Lawless, Cole Whittle and JinJoo to form DNCE in 2015. The group hit the ground running with their debut hit single — the catchy upbeat pop-rock sizzler "Cake By the Ocean," which was a preview to their debut 2015 EP SWAAY. The track has been called one of the best pop songs of 2016 by Billboard and was certified 3x multi-platinum in November 2016. 
"It's tough for artists to get second chances in the music industry these days, and the fact that I get to do it with these guys who love music and are passionate and have a great time onstage is a dream come true," Jonas told Rolling Stone. "Getting a chance to come at it like a new artist and a new band is incredible."
Desiigner 
When Brooklyn-native Desiigner released "Panda," the rapper was heavily compared and sometimes even confused for another rapper: Future. But no one seemed to care whether Desiigner was biting Future's flow, as his high-energy trap record skyrocketed to the top of the Billboard Hot 100 by April 2016 and was sampled on Kanye West's Life of Pablo's "Father Stretch My Hands." Furthermore the success of the song landed him campaigns in Vogue, Adidas and Champs Sports and a record deal with G.O.O.D. Music.
"The second I put it out, it became a special record," Desiigner told Complex. "Once I put it out it was already like 5K [streams] then over the weekend just went to like, 200K. Before 'Panda' I had a buzz already. I was on the radio. I touched radio before through a couple features I did in the past and a couple of artists that I connected with," he further explained of his rise.
Kiiara 
"Gold" is singer Kiiara's breakout record she never saw coming when she posted the track online. "When we put it out, we were like, maybe a couple thousand people will hear it at most. It never even crossed our minds that a ton of people were going to hear it," she told Billboard. On the snappy synth-pop cut, the 21-year-old Illinois artist makes it clear what her personal philosophies are.
"The overall message is you don't have to answer to anyone," she continued. "That's how I was raised. If someone asks you for something, you don't owe them anything. You don't have to answer. I wanted to somehow incorporate that into the song." 
Zay Hilfigerrr and Zayion McCall 
Following in the steps of the "Nae Nae" and "Hit the Quan," in 2015, Zay Hilfigerrr and Zayion McCall brought the biggest dance-crazed record in 2016 with "Juju on That Beat." 
The success of the song was driven by viral videos of the everyday people following the dances instructed by the duo on the track. "Juju" is a freestyle over a borrowed beat from the 2004 record "Knuck If You Buck" by Atlanta hip-hop crew Crime Mob. Zay and Zayion brought the Juju to national television on The Ellen DeGeneres Show and LIVE With Kelly. 
Daya 
Daya isn't afraid to stand apart on her cheery but very frank pop hit record "Sit Still, Look Pretty." She finds herself defying gender limitations placed on women and instead wants to take charge of her future. "Could wake up in make up and play dumb/Pretending that I need a boy/Who's gonna treat me like a toy," she sings. The record is a fun time but also a very real message she wanted to send to her young female fans. 
"I grew up with four sisters — four very talented and intelligent sisters—and two parents that were very supportive of whatever we wanted to do," Daya explained to TIME. "So I took that message, and wanted to tell it to my younger audience, especially girls who feel like they're put into a box or a mold by society saying you have to look or act a certain way to please people. But really, girls can do anything that guys can."
NAO
British singer NAO's debut For All We Know was filled with cool funky feel-good tracks, a sound she coined "wonky-funk." After years of studying jazz theory and teaching music she eventually embarked on her own musical solo journey that has influences from array of R&B eras, gospel and funk while infusing electronic sonics for a modern feel. The album has been placed on several Best Albums of 2016 lists for NME, Guardian and Rough Trade.  
"I don't know about concept but I think I'm trying to do what comes naturally to me," NAO told Billboard about creating her debut. "I'm a '90s girl and that's the sort of music I was listening to growing so naturally, when I'm writing, a lot of that comes out without me thinking about it. Before, I used to try and make things sound a bit different, maybe a bit more left. Now, I'm just a bit more comfortable with it."
Chance the Rapper 
Three's a charm for Chance the Rapper, whose third mixtape Coloring Book took him to new heights with Grammy nominations and critical acclaim from a long list of publications. The fusion of gospel samples and choir-backed records like on "No Problem" to laid-back headknockers on "Blessings" and the jittery, two-steppy "All Night," brought us a variety of sounds to have a great time to. 
"I think all of this music came from me moving to L.A. as a catalyst. I moved out here in the beginning of 2014 and stayed here only about four or five months. But in that time I felt like I was kind of losing my God a little bit and that separation — I kind of got rid of that feeling by filling every morning, literally filling my whole neighborhood with this Kirk Franklin song," he explained to Zane Lowe on Apple Music's Beats 1. "We'd crank Kirk Franklin through the whole neighborhood and I think from that, that was the time that I started making a lot of this music two years ago," he further explained. 
The Chainsmokers
American DJ duo The Chainsmokers took over the Billboard charts this year with their first No. 1 single "Closer" featuring Halsey and with the success of their top ten hit "Don't Let Me Down" featuring Daya. For their consistency, the magazine crowned the duo the top Dance/Electronic act of 2016. Their magnetizing EDM sound which lit up festivals all year has garnered them a 2017 best new artist Grammy nomination.
"But when we started we weren't confident about our writing or singing and gradually we have really come to believe in it," Drew Taggart told Teen Vogue. "In doing so, our music has become a lot more personal. People can relate to it, but it doesn't feel cookie cutter. As we move forward, we will always try to continue to innovate with our sound. When people can predict what to expect from us, that's when we feel like we are losing as artists."