The internet is trying to protect Betty White from the last days of 2016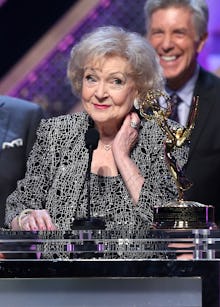 After the death of Carrie Fisher, adding to the seemingly endless stream of celebrity deaths throughout 2016 – David Bowie, Muhammad Ali and Prince just to name a very small few – a GoFundMe has been created to "help 2016 catch these hands if it goes anywhere near Betty White."
The GoFundMe was created by Demetrios Hrysikos, a South Carolina man who simply wanted to "try and put a smile back on some people faces [sic] and do some good." On the page, Hrysikos offers to stay with Betty White to "keep her safe until January 1st, 2017," noting that he would only do this "if she's okay with it." Should Betty White not be okay with "a strange Greek standing guard outside her door," Hrysikos stated that the funds from the GoFundMe will be donated to Spartanburg Little Theatre, a local performing arts center, "to help craft new stars of stage and screen to carry [the] mantle of the legends that have left [us] this year."
The GoFundMe quickly went viral, causing "Betty White" to trend on Twitter and leading some to fear the worst.
While many have taken the GoFundMe as an innocent effort to support local arts and lighten the mood since Carrie Fisher's passing, some are critical of the method. Comments on the GoFundMe accuse Hrysikos of a scam or say that donors are throwing away their money to an undeserving cause – or that the GoFundMe is insensitive.
While only time will tell if Hrysikos donates the funds to the Spartanburg Little Theatre, there is research to suggest that music and dance training, like the kind offered through Spartanburg Little Theatre's Youth Theatre program (which is mostly volunteer-based and offers partial and full scholarships for students), can have immediate physiological benefits, especially for those struggling with poverty. Fifteen percent of Spartanburg County lives in poverty – 1.5 percentage points higher than the national average.
In an update on the fundraiser, Hrysikos expressed shock that the page was "kinda going viral" and emphasized the importance of supporting local arts programs to help nurture new talent:
2016 has taken so many great artists and SLT helps support and nurture new budding talent in our town. I'd like to think that Betty [White], Carrie [Fisher], and [David] Bowie would be happy with any proceeds going to that cause.
The GoFundMe was created Tuesday afternoon and has already exceeded its goal of $2,000 with more than 200 donors.
Mic has reached out to Demetrios Hrysikos and a representative for Betty White and will update if we hear back.