New Year's Eve Weather Forecast: NYC, Boston, DC and more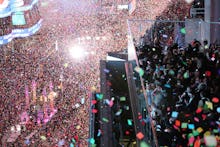 Here's some good news as we get ready for New Year's Eve celebrations: According to the Weather Channel, no major winter storm will hit the northern areas of the U.S., nor is severe weather expected in the south. 
Nevertheless, the Midwest and Northeast may experience a clipper system moving through, and a low pressure is moving to the South. Two additional low-pressure conditions will take place in the West, while the Great Lakes area will see some light snow. Mountain snow showers are possible in Southern California, and temperatures could be above average from Texas into the Midwest and Northeast, the Weather Channel reported.  
Here are the high and low temperatures you'll feel in your neck of the woods: