'Super Mario Run' Android Release Date: Knockoff games hit Google Play in full force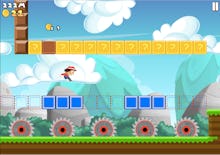 Nintendo withholding the release date details for Super Mario Run on Android may feel cruel for the non-iPhone users out there, but you can take solace in the fact that several copycat apps have made their way to the Google Play Store. Okay, it's not as good as the official game, but you might just find a decent way to keep occupied until Nintendo decides to break Android users off a piece of that Super Mario Run APK. 
If you're interested in playing a platformer on your smartphone that's almost Super Mario Run — but not quite — here are the closest options.
Super Mario Run Android knockoff: Super Mega Runners 8-Bit jump
Super Mega Runners 8-Bit jump is a lot less fun than the real game. It's different enough that the developer probably won't get sued, but the game feels like words-we-associate-with-Mario soup. You can do better than this.
Aside from being a mouthful to say, Super Mega Runners 8-Bit jump is a pretty standard Super Mario Run clone with one big twist. Instead of a primary character that looks like Mario, players can play as other familiar pop culture characters like Abraham Lincoln and Mr. T. Like in Super Mario Run, you'll jump over pipes and run around blocks in this knockoff. But after playing this game you'll probably loathe Nintendo even more for bringing Super Mario Run to iOS first.
Super Mega Runners 8-Bit jump is available on Google Play for free with in-app purchases.
Super Mario Run Android knockoff: Super Plumber Run
Another way to distract from the lack of a Super Mario Run Android release date is with Super Plumber Run. This Google Play app boasts a generic title that makes it clear you're playing a knockoff of the real thing. It lets players run through virtual worlds full of mystery blocks and collectible mushrooms. As an added bonus, players are able to rotate their screen to play in portrait or landscape, which you can't do in the real Super Mario Run game.
While the game is a clone of Super Mario Run, Super Plumber Run also offers some interesting game modes not found in Nintendo's runner. The ability to ride in vehicles and grow extra large are capabilities we've seen in other Super Mario Bros. games, but not in the first official smartphone iteration.
Super Plumber Run is available on Google Play for free with in-app purchases.
Super Mario Run Android knockoff: Super Marlo Run
Super Marlo Run is just one letter shy of Nintendo's official game and the main character looks an awful lot like Mario, too. That's probably why this game has already been removed from Google Play, meaning you'll have to look somewhere else for a chance to run through a world of mystery blocks and pipes on your Android device.
Just like with Super Mario Run, players can collect coins and avoid flying turtles. If you managed to download this app before it was deleted, you may even be able to fool your friends into thinking it's the real thing for Android.
More Super Mario Run tips, tricks and updates
If you want to know more about Super Mario Run, walk calmly toward Mic's latest coverage, like our review of the demo, an explanation for why the game isn't free, an advisory about how much data Super Mario Run will really use and a list of Android games to play while you await its Android release.