What time do the College Football Playoffs start? When to watch Alabama, Ohio State & more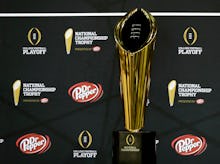 Even the most adamant sports fans need a break sometimes, so don't feel bad if you decide to skip a few of the bowl games before the College Football Playoff National Championship. What's important is you follow your favorite team — whoever that may be — and catch the three College Football Playoff games. 
If you don't know when the playoffs start, you've come to the right place. This year, the CFP National Championship will be won by either No. 1 Alabama (the reigning champion), No. 2 Clemson (last year's runner-up), No. 3 Ohio State (the first CFP Champion) or No. 4 Washington (the Pac-12 champion). 
You're not going to want to miss a moment of the action, so check out the full CFP schedule below (all times are Eastern): 
Chic-fil-A Peach Bowl — Dec. 31
No. 1 Alabama vs. No. 4 Washington: 3 p.m. on ESPN
PlayStation Fiesta Bowl — Dec. 31
No. 3 Ohio State vs. No. 2 Clemson: 7 p.m. on ESPN
College Football Playoff National Championship — Jan. 9
Winner of the Peach Bowl vs. Winner of the Fiesta Bowl: 8:30 p.m. on ESPN