Meet the ridiculously amazing crowdfunded tech launching in 2017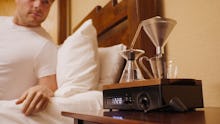 Crowdfunding has become a popular way for entrepreneurs to raise cash and, in some cases, generate international media buzz at record speeds. These days, a startup can generate millions of dollars and rack up thousands of orders with only a handful of donors and a well-edited product video through fundraising platforms like Kickstarter and Indiegogo. 
Turning an idea into reality has never been easier for first-time entrepreneurs that master the art of raising money online. For a few lucky startups that were successful in 2016, the new year will see their products shipped to the very people who backed the technology they designed to disrupt, simplify or improve our lives.
Here's a look at some of the best crowdfunded tech that will launch in 2017. 
Editor's note: Mic does not endorse any projects listed below and product availability, shipping dates and price are subject to change. 
Price: $299 (plus shipping)
Expected shipping date: September 2017
Not every crowdfunded campaign has to change the world. Some products are built to merely simplify our everyday activities. While some may see this coffee brewing alarm clock called "The Barisieur" as silly, it's obviously fulfilling a need. It's managed to raise more than $571,000 since its launch. 
The bedside device works by "easing" users into a new day with a cup of joe or loose leaf tea. Once an alarm goes off, the machine begins boiling water automatically in a reusable beaker, which is later poured into a standalone cup. Beneath the device's burner there are sealed compartments for sugar and milk, as well as a smartphone charging outlet.
Price: $179 (plus shipping)
Expected shipping date: June 2017
Getting in shape and playing video games don't have to be mutually exclusive. Nintendo Wii, Xbox Kinect and PlayStation Move are just a few of the popular platforms that make it possible to exercise and take down virtual baddies all at the same time. 
Their success meant it was only a matter of time before a new fitness-related alternative was created. Enter Stealth, a fitness gadget that turns your entire body into a joystick so that you can plank and have fun at the same time. Users lay down on the device and play mini mobiles games by turning and rotating up to 360 degrees in any direction. 
Price: $120 (free shipping and returns in the U.S.) 
Expected shipping date: Spring 2017
Fend is making bike safety fashionable and functional one helmet at a time. 
The startup is the mastermind behind a foldable bike helmet that can collapse to one-third its size and features a hard outer shell, cooling vents, nylon straps to keep it in place while worn, and, according to the company's designers, meets both U.S. and European safety standards. 
As an added bonus, shoppers who sign up for company email alerts can get up to 20% off their order. 
Price: $119 (plus shipping)
First scheduled shipping date: June 2017 
There's always been a need for a gadget that could turn the average smartphone into a desktop.
San Francisco-based Andromium seems to have done just that with the Superbook, a smart laptop shell. When paired with an Android phone, the laptop launches a company app, called Andromium OS, that turns a smartphone into a desktop machine. 
The 11-inch Superbook comes with high-definition display, multitouch trackpad and keys, at least eight hours of battery life and the ability to run multiple apps at the same time. Though the company's Kickstarter account is now closed, users can still pre-order online via its website.
Price: $89 (plus shipping)
Expected shipping date: June 2017
The Knocki tag line of "make every surface smart" is a pretty apt description for what this futuristic device does. 
The puck-shaped doohickey attaches to any surface in your home and transforms it into a remote that can control smart household features. For example, attach the Knocki to the wall, program your preferences (two taps for lights, three taps to call your phone) and then control household appliances using the accelerometer installed inside the device. It can work with a variety of smart devices to control everything from lights to climate control and security alarms, just by tapping on the surface it's attached to.
Price: $25
First scheduled shipping date: February 2017 (single version)
EyeQue is making the future a little clearer and more affordable with its vision tracker that lets users test their eyesight from home using their smartphone. The basic eye test works by attaching the company's small microscope to a mobile phone which owners then use to match two bars, a red and green one, together until they overlap. 
After the test, the company's proprietary app will share vision diagnostics, upload vision history to the cloud for later use and provide eye measurements, which can help identify nearsightedness and farsightedness. The product isn't meant to replace trips to the optometrist but instead act as a personal checkup in between visits and as alternative expert for individuals without access to proper eye care.
Price: €10 (ad-free version on Android, iOS and desktop when launched)
Expected shipping date: February 2017
If learning another language is on your list of New Year's resolutions, Beelinguapp can help. The online app is designed for speakers looking to boost their language skills by showing side-by-side translations of audiobooks read by native speakers. 
It's currently only compatible with Android devices, but plans for an iOS version are planned for summer 2017. Supported languages include English, German, French, Spanish, Portuguese, Hindi, Russian, Chinese, Turkish and Arabic. 
This month, Mic Essentials brings you handpicked deals, reviews, recommendations and gift ideas. For more ideas, see our lists for best fitness smartwatches, weed tech and vapes.