John Kerry on UN's Israel resolution: US "could not in good conscience stand in the way"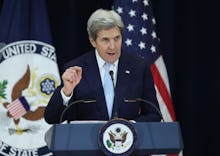 Secretary of State John Kerry gave an impassioned speech on the state of Middle East peace Wednesday morning, defending the U.S.' abstention from a vote in the United Nations Security Council to rebuke Israel. The Security Council resolution condemned Israel for increasing settlements in the West Bank by saying they are an impediment to a peace deal between Israelis and Palestinians.
"We could not in good conscience stand in the way of a resolution at the United Nations that makes clear that both sides must act now to preserve the possibility of peace," Kerry said in a speech at the State Department Wednesday morning.
Kerry — who made clear his belief that a two-state solution is the "the only way to achieve a just and lasting peace between Israelis and Palestinians" — said the increased number of Israeli settlements on the West Bank were pushing a peace deal further out of reach.
And he warned that if Israel keeps moving toward a one-state solution — in which Israel would become one Israeli-Palestinian state — that the Middle East "won't ever really be at peace."
"Israel can either be Jewish or democratic," Kerry said of a state where Israel permanently ruled over the Palestinian territories. "It cannot be both."
Kerry's speech comes as the government of Israeli Prime Minister Benjamin Netanyahu has been lashing out at both the United States and the countries that voted last week to pass the Security Council resolution.
The outgoing secretary of state pushed back on those who said the U.S.' decision to abstain from the vote and let the resolution pass makes the Obama administration anti-Israel, stating that, under President Barack Obama's leadership, the U.S. has been a staunch defender and supporter of Israel. 
Kerry said Netanyahu and others have created a "with us or against us mentality" that has led those who don't agree with everything Israel does to be characterized as "anti-Israel or anti-Semitic."
"Friends need to tell each other the hard truths and friendships require mutual respect," Kerry said, taking a jab at Netanyahu.
"We have to be clear about what is happening in the West Bank," Kerry said, adding that while Netanyahu publicly says he wants a two-state solution, "his current coalition is the most right-wing in Israeli history with an agenda driven by the most extreme elements."
Netanyahu, for his part, fired back at Kerry's speech, calling it ""unbalanced" and saying Israelis "do not need to be lectured about the importance of peace by foreign leaders."
Netanyahu also accused the United States of organizing the U.N. resolution.
Kerry's position is in stark contrast to President-elect Donald Trump, who was against the U.N. vote, and has chastised the outgoing Obama administration and the world body for letting the resolution pass.
"Stay strong Israel, January 20th is fast approaching!" Trump tweeted Wednesday morning, a signal that his administration will have a much different position on the settlements than Obama's.