Pence's neighbors show no mercy with "This neighborhood trusts women" signs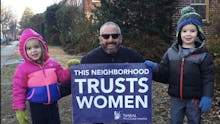 Mike Pence's neighbors rolled out the rest of their welcome wagon this week, planting NARAL Pro-Choice America signs in their lawns reading, "This neighborhood trusts women." 
According to DCist, some of the signs have even cropped up in front of the house directly across the street from the Pence family's $6,000-a-month rental. NARAL's communications director Kaylie Hanson Long told the outlet that the organization's intention was to make their message crystal clear — and unavoidable.
"Part of our charge following the election is making sure that Mike Pence knew just how off base he was with the majority of Americans when it comes to abortion access," she said. "The best way to let him know that is to go literally right to his door step and tell him."
Pence, naturally, aligns with President-elect Donald Trump on questions of federal abortion rights — that is, he wants to eliminate them completely. During the final debate, Trump pledged to appoint a Supreme Court justice who would overturn Roe v. Wade, the landmark 1973 ruling that made abortion legal. The president-elect was likely pleased to hear that his running mate had already done his fair share to restrict access to abortion as Indiana governor: In July, Pence signed a law requiring the burial of aborted fetuses. 
The yard decorations are just the latest in the Chevy Chase, Maryland, neighborhood's silent protests against the vice president-elect and his track record with gay rights and women's reproductive freedom.
Earlier this month, Pence's neighbors hung rainbow flags in a show of support for the LGBTQ members of their community — who Pence believes should undergo conversion therapy. During his Congressional campaign, Pence had even fought to divert funds from HIV and AIDS research toward such treatments. He's also gone on the record opposing same-sex marriage, though Trump has said the Supreme Court ruling is "irrelevant" and "settled." 
"I have no idea what [the vice-president-elect] will think ... but I hope he will change his mind," neighbor Ilse Heintzen told a local ABC affiliate at the time. "This is one way that I can show my disagreement."
There's less than a month until Pence moves into his permanent residence at the Washington, D.C., Naval Observatory — Pence's neighbors have shown they're ready and willing to accept that challenge.