Which villains will return to 'Supergirl' in 2017? Livewire, Metallo and more to appear.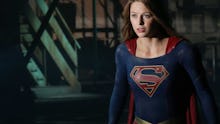 Those worried that Supergirl's move from CBS to The CW would result in a weaker show have got to be relieved. Supergirl's second season (and first on The CW) has not missed a beat, and is arguably an improvement over its freshman run. The series' second season has seen the introduction of new villains and several familiar faces to comic fans — most notably the Man of Steel himself, Superman, played by Tyler Hoechlin. 
Supergirl has fought several foes from her comic history, as well as from Superman's, and it appears she is not quite done with a few of them. TVLine is reporting that several villains that have appeared on Supergirl will be returning to the series in 2017. Among the returning faces are Livewire, played by Brit Morgan, and Metallo, played by Frederick Schmidt. 
Executive producer Ali Adler told TVLine that more "fan-favorite" villains will be returning as well.
Who is Livewire?
For those needing a refresher, Livewire appeared in two episodes of Supergirl's first season. The character, like fan-favorite Harley Quinn, is a creation of animation legend Bruce Timm, and originally premiered in Superman: The Animated Series. 
Much like her animated counterpart, in Supergirl, Livewire is originally a powerless shock-jock who is known for her harsh opinions. Following an accident that involves Supergirl, Livewire develops the ability to manipulate electricity, making her extremely dangerous. 
Livewire also teamed with Silver Banshee, played by Designated Survivor's Italia Ricci, in the season one Supergirl crossover episode with The Flash. 
Who is Metallo?
Metallo, aka John Corben, is a cyborg and one of Superman's most enduring antagonists. Originally an ordinary assassin in Supergirl, Corben is turned into a Kryptonite-powered cyborg following his first encounter with Kara and her slightly more famous cousin. 
Metallo appeared in the first two episodes of Supergirl's second season and was eventually defeated by the combined efforts of Supergirl, J'onn J'onzz, Superman and Alex Danvers. 
As one of Superman's most dangerous enemies, the Girl of Steel could be in for some trouble when Metallo returns to Supergirl in 2017. 
Who else could be returning?
One villain who will be showing up (if you are to believe The CW's own promo) is Roulette. Played by fanboy favorite, Dichen Lachman, Roulette appeared in a season two episode of Supergirl as the ringleader of an underground Alien fight club. 
The CW recently released a promo for Supergirl's midseason premier, titled "Supergirl Lives", which features Dichen Lachman's Roulette. Fans should thus expect to see the supervillainess as soon as the next episode. 
It is also likely that we have not seen the last of Hank Henshaw, aka Cyborg Superman. Cyborg Superman was last seen in the fall finale, where he disappeared following a battle with Supergirl and J'onn J'onzz. As he is portrayed by series regular, David Harewood, who also plays J'onn J'onzz, it would not be all that shocking to see Henshaw return. 
Finally, while this is pure speculation, it is possible that Silver Banshee could be returning to Supergirl, joining Livewire once again. Ricci, the actress who portrays Silver Banshee, recently posted a picture of her doing her own stunts in Supergirl stating, "Can we do it again?" 
Could it be that this is a bit of foreshadowing? 
Supergirl returns to The CW on Monday, January 23 at 8 p.m. Eastern.
Mic has ongoing Supergirl coverage. Please follow our main Supergirl hub.