You can eat truffles off of an iPad at this San Francisco restaurant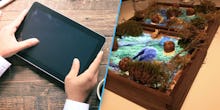 Do you love technology so much you can't eat without it? At Quince, a San Francisco restaurant with three Michelin stars, you can order truffle-infused croquettes served on an iPad. 
The dish started going viral after local chef Ritchie Nakano, who works at IDK Concepts, a restaurant design group that operates pop ups, tweeted out a photo of the odd plating: 
Based on the screenshot of a text exchange in Nakano's tweet, the dish, called "A Dog in Search of Gold," seems to consist of white truffle croquettes served on an iPad streaming a video of "water dogs on the truffle hunt." 
It seems awfully ostentatious to serve food on a tablet that's worth hundreds of dollars. Then again, the trend of ditching plates is nothing new — there's an entire Twitter account called @wewantplates dedicated to highlighting the worst plating trends. (Offenders include restaurants serving food out of shoes, on tennis rackets, in Legos and on miniature Ferris wheels.) 
"If you dine out at restaurants around the world, the days of eating on a certain style of plate are over with..." Quince chef Michael Tusk, a James Beard Award-winning chef, said in an email, explaining that he has lived in San Francisco for over 20 years and wanted to pay homage to the tech boom he's witnessed. 
"The idea was simply about taking the guest on a voyage to being out truffle hunting and then having a moment when the truffle is dug from the ground," Tusk said. "Guests are curious and it allows a dialogue to begin and start the meal in a relaxed manner." Tusk noted that the food sits atop a custom sheath that's cleaned after each order, so no food actually touches the iPad. 
Restaurants often feel pressure to stand out, but Quince's three-star Michelin rating already elevates them, Nakano, a 12-year veteran of the San Francisco food scene, said in an email. "[The rating] places them in the top 1% of restaurants in the world," he noted. 
Yelp users praised "a Dog in Search of Gold": "Such a lovely name, as it has perfectly described what we have seen: a lovely dog happily running in a forest, looking for its own food!" user Elaine H. wrote in a review of Quince. Anna M. remarked that the dish's "presentation was out of this world, and super cute." 
"Quince hides the bites with the foliage and you get to forage for them," @deedub1804 posted on Instagram. Here's their video of the experience in action: 
Here are a few more photos of the tech-centered dish: 
SFist wrote that the tablet idea isn't original — a restaurant in the United Kingdom was serving food on iPads back in 2015. But this is wrong. The DailyMail article SFist cited features a photo taken as part of an April Fools' joke for a CNET article, according to an online archive of pranks. 
This is journalism in 2016, people. And apparently, April Fools' jokes can become reality when you live in San Francisco. 
Yet this bizarre and ostentatious plating might not be the weirdest thing in the San Francisco food scene. "It's definitely silly, but this city is about to get an EDM-themed bubble tea cafe, so maybe we should hold off on our judgment," Nakano said in an email.