Beyond 'Star Wars': Here's every Netflix TV show and movie starring Carrie Fisher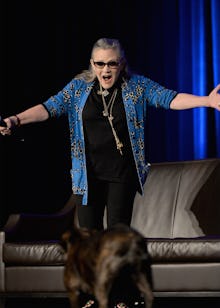 Carrie Fisher's death came suddenly and far too soon, leaving fans across the galaxy wishing they had just a little more time with the actress who portrayed the iconic princess we've all come to know and love. Star Wars cast members were also deeply saddened to bid farewell to Fisher, leaving their heartfelt tributes on Twitter. Her life impacted countless people, and her passing leaves a void that will ripple across space. But Fisher was known for more than just her role as Princess Leia Organa of Alderaan. She was an actress of the highest of caliber and starred in myriad movies and TV shows. 
So if you've already seen Fisher as Princess Leia in Star Wars but still want to see her in other roles, you're in luck. Netflix has plenty of movies and TV shows starring our favorite princess. 
Here's every title streaming on Netflix featuring Carrie Fisher.
Girlfriends' Guide to Divorce
Fisher plays Cat in two episodes of Girlfriends' Guide to Divorce: season one, episode one, titled "Rule #23: Never Lie to the Kids," and season two, episode six, titled "Rule #25: Beware the Second Chance." 
The show follows Abby, a best-selling author who secretly separates from her husband. Now a single woman in her 40s living in Los Angeles, Abby seeks relationship advice from her divorced friends. 
Family Guy
If you're a fan of Family Guy, you probably already know Fisher was a regular on the show. She voiced Angela, Peter Griffins boss, and can be found in 23 episodes, from season four to season 15. 
Legit
Fisher made only one appearance in Legit, playing Angela McKinnon in season two, episode nine, in which Jim goes to extreme measures to land acting roles in Hollywood. 
30 Rock
In 30 Rock, Fisher stars as Rosemary Howard in season two, episode four: "Rosemary's Baby." It's her only appearance on the show, but she makes a splash in the episode with a strong comedic performance.
Weeds
Fisher is Arlene Cutter in season three, episode three of Weeds. In the episode "The Brick Dance," Nancy does whatever it takes to come up with the money she owes drug dealer U-Turn.
Jay and Silent Bob Strike Back
Remember that scene where Jay and Silent Bob are desperately trying to hitch a ride? They finally manage to get someone to pick them up, and when they climb into the back seat of the car the find a nun behind the wheel — that's Carrie Fisher, who gets rather lonely in the front of the car and coerces one of them to switch seats.
Frasier 
In Frasier season three, episode one, titled "She's the Boss," Fisher plays a small role as the voice of Phyllis, an insomniac who is calling in to Dr. Crane's radio show seeking advice. The problem? Dr. Crane is asleep at the phone.