How to Become a CEO in 'GTA 5 Online': Guide, tips, perks and everything you need to know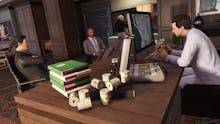 With Grand Theft Auto 6 still years away and plenty of ways to make cash quickly in Grand Theft Auto 5 Online, there's never been a better time to become a CEO in the online game and dominate the business world of Los Santos. In between fierce snowball fights, of course.
Here's everything you need to know to become a CEO in GTA 5 Online.
How to Become  CEO in GTA 5 Online
In order to become a chief executive, you need a business to chief execute. Go figure. Any good business has an office, so you should start by buying an office somewhere in the game world of GTA Online. This is where those fast money exploits will come in handy. 
Per VG247, there are four different real estate options for becoming a CEO in GTA 5 Online. You can purchase the Maze Bank Tower for $4 million, Lombank West for $3.1 million, the Arcadius Business Center for $2.25 million or Maze Bank West for $1 million using the Dynasty 8 Executive website on your in-game smartphone. 
Now all you have to do is name your company, customize the office, hire an executive assistant and recruit some associates to do your bidding. 
Additionally, you get access to a number of perks for being a CEO. Buying new properties will give you new vehicles, for example. Any benefits from being a VIP or bodyguard will also carry over.
Congratulations on graduating to white collar crime in GTA 5 Online.
GTA tips, tricks and guides
Becoming a CEO isn't all there is to do in GTA 5 Online. Check out Mic's guides for the GTA Online winter event, the new Import/Export DLC and how to make money fast in the online game.