Dear Obama: These people deserve clemency for low-level drug crimes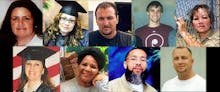 (Editor's note: On Jan. 17, President Barack Obama commuted the sentences of two of the people included in the list below: Deneise Quintanilla and Turner Ashe Jr. Both had been serving life sentences for low-level drug offenses. They are slated to be released in 2017 and 2019, respectively. The original opinion piece appears below.)
In 2005, Shauna Barry-Scott was sentenced to 20 years in federal prison for selling drugs to a trusted friend who turned out to be a police informant. For this nonviolent, low-level drug offense, Barry-Scott was taken from her four children in Youngstown, Ohio, to a prison in West Virginia. Her kids visited her regularly at first, but over time, the trip to West Virginia became prohibitively expensive. As her children grew into adults, Barry-Scott resorted to talking to them over video camera, which is how she saw her grandchildren for the first time.
Ten years after Barry-Scott entered prison, President Barack Obama granted her petition for clemency and commuted her sentence. When she heard the news on July 13, 2015, she stumbled, dazed, back to the compound where her fellow women inmates were celebrating. "At the end of that day, when I laid down [to go to sleep], I was so sore from everybody squeezing me and hugging me," she later recounted. Her children and grandchildren met her with open arms at the prison gates when she was released.
But for every person like Barry-Scott who gets a new lease on life, thousands more casualties of the war on drugs remain incarcerated for low-level offenses. Obama's clemency grants have reunited parents with their children and returned years of freedom to more than a thousand people. But time for the more than 12,000 federal inmates who have requested clemency is fast running out. Without presidential intervention, some of them will die in prison. It is imperative that Obama turn his attention to clemency in these last few weeks.
Politicians during the 1980s and 1990s had little sympathy for drug offenders. Decades of rising crime persuaded Congress to pass laws that established mandatory penalties for offenders convicted of even low-level drug-dealing. Many defendants got 20 years if they were lucky, and life without parole if they weren't. The population of people in federal prison for drug offenses ballooned from around 5,000 in 1980 to nearly 100,000 in 2010. As a result, drug offenders now make up about half of all people in federal prison. A generation of kids grew up parentless. Entire communities were hollowed out.
It might not come as a surprise that most people sentenced under these laws were people of color; the war on drugs was really more of a war on minorities and the poor. In 2012, nearly 80% of all federal drug offenders in prison were racial and ethnic minorities. Although white Americans report using drugs at five times the rate of African-Americans, African-Americans are sent to prison for drug offenses at 10 times the rate.
Rolling back the war on drugs has been slow going. The Fair Sentencing Act wasn't passed until 2010, and even then, it left the crack-powder cocaine disparity in place (albeit substantially reduced), a provision that disproportionately targets African-American communities. Furthermore, courts have declined to apply the law retroactively, leaving relief for inmates just out of reach. Many of those requesting clemency from the president have already served several times the sentence they would have received if they had been convicted under today's laws.
We are on the cusp of a historic shift in power and national direction. Already, there are murmurings that the next administration will seek to re-escalate the war on drugs by aggressively pursuing mandatory minimum sentences for drug offenders. If Obama does not tend to those we lost to the first war on drugs, who will?
The following is a list of clemency applicants who are still waiting for word on their petitions. This list captures just a fraction of the deserving applicants before Obama.
(Editor's note: The following list was compiled by Xiaonan "April" Hu and Theo Torres and verified by attorneys representing each of the defendants.)
Turner Ashe, Jr., 52. Ashe is currently serving a life sentence for a nonviolent drug offense. He has been incarcerated since 2004, during which time his wife died of cancer. Despite his sentence, he has worked tirelessly to better himself. He has earned his associate's degree in paralegal studies and completed substance abuse courses. He hopes to someday return to his five children and four grandchildren.
Jose Matilde Barrios, 65. Sentenced in 1993, Barrios's final sentence came out to over thirty years. During his twenty-three years in prison, Barrios has received no disciplinary infractions and has maintained strong family ties with wife, children and grandchildren. He has also received training as a maintenance technician.
Demetris S. Blocker, 35. Blocker was sentenced in 2007 to 20 years in prison for a nonviolent drug offense. Under today's laws, he likely would have been sentenced to roughly six or seven years in prison and released by now. Blocker is a graduate of a mechanics program and regularly gives financial support to his daughter from prison. If given clemency, Blocker intends to return home to care for his daughter and work for his father's moving company.
Daniel Lynn Brown, 40. Brown was sentenced to 510 months in prison, effectively a life sentence, for drug distribution offenses. During his sentencing, his judge expressed hope that he could revisit Brown's case again one day. Since his imprisonment, Brown has worked for over seven years in the Federal Prison Institution Business Office, saving his wages to support his daughter. He was selected as the graduate speaker for his prison's Life Connections Program, an intensive, 18-month reentry program.
Elisa Idalia Castillo, 61. Castillo was sentenced in 2008 to life in prison without parole for nonviolent drug offenses and conspiracy to commit money laundering. At her trial, it was revealed that she had been manipulated by her boyfriend, who took advantage of her trust and limited education to engage in acts that furthered his schemes. She was a first-time offender, and her sentencing judge has since written that she is a "good candidate for clemency." If sentenced today, she likely would not have received a life sentence.
Bryant Cook, 54. Nearly 20 years ago, Cook was given a life sentence for nonviolent drug offenses. Since being imprisoned, he has worked tirelessly to become a better man, participating in wellness courses, parenting classes, ceramic and leather workshops, typing classes, basic legal research, and substance abuse treatment program. At his sentencing hearing, the judge remarked that he "didn't have any discretion" in imposing a life sentence. If he were sentenced under today's laws, Cook could have been eligible for release within the year. Instead, he will spend the remainder of his life incarcerated unless granted clemency.
Johnnie Dethrow, 50. Dethrow is serving an 18-year prison sentence for a nonviolent drug offense. He struggled with addiction for years prior to his arrest, but has received treatment in prison. If released, he plans to live with his mother in Missouri and reconnect with his children.
Kevin Dunn, 49. Dunn was sentenced to nearly 20 years in prison for a nonviolent drug offense. Before his imprisonment, he owned and operated two businesses. Unfortunately, drug addiction led him into the criminal justice system. He has since done his best to be present in both his daughters' lives. One daughter, Dannyelle, recently graduated from college, and the other, Aseisah, will receive her degree in the coming year.
Sherman Foye, 38. Foye was 23 years old when he received a mandatory 20-year sentence for nonviolent drug offenses. Under today's laws, he would most likely have been sentenced to five or six years in prison. Foye has already served that three times over. Additionally, the Virginia State Bar has reprimanded Foye's defense attorney multiple times. That attorney's law license is currently suspended for misconduct and violating professional rules.
Enrique Gonzalez, 40. Gonzalez was a first-time offender and only 20 years old when he was sentenced to 36 years and six months in federal prison for nonviolent drug offenses. Under today's laws, his sentence would likely have been five years.
Alice Johnson, 61. Johnson was given a sentence of life imprisonment without the possibility of parole for a first-time, nonviolent drug offense. She has already spent more than 20 years behind bars and will spend many more there unless the president grants her clemency. During this time, she has worked continuously, completing hundreds of hours of coursework in a variety of subjects and becoming a valued member of the prison community. She was trusted by prison staff to tend to terminally ill prisoners in the hospice care unit of Federal Medical Center, Carswell, a federal prison in Fort Worth, Texas.
Lori Kavitz, 57. Kavitz was sentenced to a little over 24 years for being complicit in her boyfriend's drug dealing. Her sentencing judge urged the Office of the Pardon Attorney to grant Kavitz clemency. "Of the more than 4,000 federal offenders I have sentenced to federal prison... Kavitz stands out to me, no screams out to me, for mercy and earned clemency," he said. Kavitz has never met her grandchildren, because her prison is too far from home. Her mother and sister passed away during her lengthy incarceration.
John Knock, 69. Knock had no criminal record when he received two life sentences for a nonviolent marijuana offense. He has since spent the last 20 years of his life in prison, with no disciplinary infractions. In this time, he has remained busy, teaching classes to other prisoners and repairing broken electronic devices. He has a large, supportive network of family and friends hoping for his return.
James Lynch, 58. Over a decade ago, Lynch received a mandatory life sentence for nonviolent drug offenses. Years of struggles with methamphetamine addiction led him to sell the drug in exchange for a regular supply of cash. Despite a difficult upbringing, Lynch has maintained a strong relationship with his family, and plans to live with his sister Janet and work for his old company if he is ever released. Under current Department of Justice policy, he would not have been subject to a mandatory life sentence, and may have already been eligible for release.
Chad Marks, 38. In 2003, Marks was arrested for a nonviolent drug offense, and later sentenced to spend the next 40 years of his life in federal prison. In the time since, he has completed over 78 rehabilitative programs, and has taught GED classes, leadership classes, and Alternative to Violence Project seminars. He also created a reentry program for the inmates at his prison and has designed programs to help troubled youth. He has received awards from staff members praising his work in assisting inmates with their educational and reentry needs.
Ana Martinez-Sanchez, 51. Martinez-Sanchez was sentenced in 2009 to 14 years for a nonviolent drug offense. She was a first-time offender. Since then, she has received no disciplinary infractions during her time in prison. She was a victim of physical and emotional abuse. If released, she will return to care for her parents, both of whom are sick and require assistance.
Michael Pelletier, 60. A paraplegic since the age of 11, Pelletier was convicted of nonviolent distribution of marijuana and sentenced to life in prison without parole. He has never received an incident report while in federal prison. His father has passed away since he was in prison. He remains close with some of his brothers and sisters, who started a Change.org petition for his release that has amassed over 100,000 signatures of support.
Thomas Prieto, 34. Prieto was in his mid 20s when he was sentenced to almost 20 years for a nonviolent drug offense. He was a passenger in a car that was pulled over and found to contain drugs. Under today's laws and sentencing practices, he likely would have received a sentence of around six years. Prieto has received only one disciplinary infraction in prison.
Deneise Quintanilla, 47. Quintanilla has served over 15 years of a life without parole sentence for nonviolent drug offenses. She is a mother to three and now a grandmother to three more. Quintanilla has been a positive force in the prison community, regularly volunteering and participating in educational courses. If granted clemency, she would return to her mother's home in Hemphill, Texas, and help tend to her aging grandmother.
Ray Ramirez-Bueno, 53. Ramirez-Bueno was sentenced in 2002 to 20 years for a nonviolent drug distribution offense. If he were sentenced today, he likely would have received a sentence of around six years. Ramirez-Bueno has served twice that amount and will go to serve even more without clemency.
Tavarras Rhodes, 39. Rhodes was sentenced in 2008 to 27 years for nonviolent drug distribution. He served in the U.S. Navy and was an employee for the Fraternal Order of Police. He has a close relationship with his daughters, and if released, would start a reentry business and seek employment with a trucking company.
Lavonne Roach, 52. A first-time offender, Roach was sentenced to 30 years for a drug conspiracy run by her abusive boyfriend. While incarcerated, she has graduated from a nine-month college accounting course with a 4.0 GPA and served as a GED tutor to other inmates. Roach is a survivor of domestic abuse, which began as early as middle school.
G. Steven Sanders, 65. Sanders was sentenced in 2004 and 2005 to more than 22 years in prison for several charges including possession with intent to distribute marijuana. At his 2005 sentencing hearing, the judge called the mandatory sentence first issued in 2004 "unfair," "harsh" and "unjust." She believed that given Sanders' age, the sentence he received "amount[ed] to a life sentence." Since his 2005 sentencing, Sanders has received no disciplinary infractions.
Andre Scales, 45. Twenty years ago, Scales was given a mandatory life sentence after being convicted of low-level nonviolent drug offenses. Though he had prior convictions for similarly minor drug offenses, he had no history of violence or serious crime. He is committed to contributing to society if he is ever released. Scales hopes to someday work with at-risk juveniles to prevent them from making the same mistakes he did as a young man.
Robert E. Shipp, 44. Shipp is currently serving a 30-year sentence (reduced from life imprisonment on unrelated grounds) for a 1994 conviction based on nonviolent drug offenses. His sentencing judge penned a letter in support of Shipp's clemency petition, noting that Shipp and his co-defendant (and the true ringleader) at the time had a "clear disparity in culpability between them." Shipp's father passed away four years ago, and his sister has collected almost 150,000 signatures in support of his clemency petition. Tennessee state Rep. Steve Cohen has also submitted numerous letters urging President Obama to grant Shipp clemency.
Cameron Maurice Stevens, 35. Stevens was 22 years old when he was sentenced to 22.5 years in 2004 for nonviolent drug offenses and firearm possession. Under today's laws, his sentence would likely be five years. He has already served twice that length, and will go on to serve over four times that sentence if not granted clemency.
Xiaonan "April" Hu and Theo Torres are students at Yale Law School who have worked on federal clemency petitions, including Sherman Foye's. They wish to thank the many students, faculty and community members of the Yale Criminal Justice Working Group and Amy Povah of CAN-DO Clemency Foundation for assisting them in compiling information on pending clemency applications.