Next 'Pokémon Go' Update Rumors: New YouTube video shows how trading might work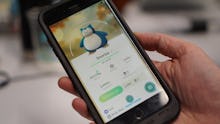 One of the core aspects of most Pokémon games is the ability to trade Pokémon between players, but that's a feature that remains noticeably absent from Pokémon Go. The CEO of Niantic Labs, the company that makes Pokémon Go, told Business Insider in July that trading will be coming to the game in a future update, and a new YouTube video from PatentYogi speculates exactly how it might work.
Is trading the next Pokémon Go update?
Before diving in, it's important to note that this video is speculative and should not be taken as fact at face value. The section of the video where the trading theory is explained starts at the 3:20 mark.
Based on patents Niantic filed back in 2012, PatentYogi speculates that Pokémon Go might pull data from bus routes and subway schedules, allowing players to trade Pokémon by sending them off on public transportation. In theory, the virtual transit in Pokémon Go would be timed exactly with transit in the real world.
However, as Polygon noted, these patents are relatively old. Therefore, it's possible that they were originally intended to be used with Ingress, the augmented reality game Niantic developed prior to working on Pokémon Go.
Though PatentYogi's theory is conceptually interesting, it also sounds like it could be logistically cumbersome. Would you have to travel to a nearby bus station to pick up a Pokémon? What happens if someone lives in a rural area without an established public transportation system? 
Until Niantic decides to officially roll out its long-promised trading system, all we can do is continue to imagine how it will work. Hopefully, Niantic nails it the first time around and avoids the headache of dealing with a half-baked feature, like Pokémon Go's original ill-fated tracking system. 
More Pokémon Go news, updates, tips and tricks
If you're ready to celebrate your Pokémon Go holiday, you may also want to check out Mic's other Pokémon Go content. Here are guides on how to catch Gen 2 baby Pokémon, the 98 Gen 2 Pokémon that have yet to be added to the game, how to catch Pikachu and his adorable new Christmas hat, our analysis of post-update Chansey and Rhydon, everything you need to know about finding the long-awaited Pokémon Ditto, how to create new PokéStops, how to maximize your chances of catching Pokémon and how PokéStops distribute Pokémon eggs.