13 best clapbacks of 2016, from "delete your account" to Amber Rose's slut-shaming rebuke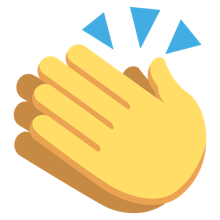 We all love a good clapback. It's a comeback but with that extra oomph. And while 2016 may have been a literal trash fire for many reasons, this year has been a goldmine for people telling each other exactly how they feel — with emphasis. 
Here are just a few reasons that 2016 will go down in history as the clappiest year in history. So put your hands together and enjoy this rundown.
Hillary Clinton to Donald Trump 
In June, Hillary Clinton — like the rest of us — had it up to here with Trump's incessant tweeting. In response to a tweet mocking President Barack Obama for endorsing Clinton, the Democratic nominee quote tweeted Trump and responded with three words that reverberated throughout the internet: Delete. Your. Account. 
Amber Rose to Pink 
In the world of clapbacks, Amber Rose reigns as queen. In March, after singer Pink tweeted a subtly slut-shaming quote on International Women's Day, Rose responded with a defense of women who embrace their sexuality. 
"Damn Pink we were all born naked society sexualizes our breast and bodies," Rose wrote. "Pink, we've seen you damn near naked swinging from a rope (beautifully) but what's the difference between a rope, a pole and a pic on Instagram? Classism."
Amber Rose to Instagram homophobes
Amber Rose's clapbacks are probably strongest when people are coming for her own family. In August, Rose responded to homophobic Instagram commenters who worried that her son would turn out to be gay because he was playing around in one of his mother's wigs. 
"Wow you people are so smart, huh?" Rose wrote. "Putting on a wig is gonna make a baby gay? Straight guys, do yourself a favor ... Put on a wig and see if [you're] turned on by another man ... I'll wait. And ladies, seriously grow the fuck up and educate yourselves." 
Kim Kardashian-West to Taylor Swift
Clapbacks don't always have to happen in the moment. In 2016, Kim Kardashian-West taught us all the value of the long-game clapback. In July, Kardashian spurred a Twitter firestorm when she released video of Taylor Swift giving the go-ahead to Kardashian-West's husband, Kanye West, to use a lyric saying the two might one day have sex. Prior to the video leak, Swift previously contended that she had warned Kanye about releasing a song with a "strong misogynistic message."
In the video, Swift tells West to "go with whatever line you think is better." Swift also admitted the line is "obviously very tongue-in-cheek either way." 
Megan Brown to sexist dude 
Dealing with sexism is a constant and blogger Megan Brown found the best way to fight it head on. When a guy she started talking to asked her to rattle off all the National League East baseball teams, she responded with wit — and then made the conversation public. 
"When meeting or dating guys it's common for them to attempt to quiz women to test if they 'really' are sports fans," Brown told Uproxx. "It seemed pretty condescending plus it was something so basic it was kind of insulting. Instead of responding with the teams (first instinct) or ignoring, I decided to have a little fun."
Kroger to gender-specific bathrooms
After North Carolina passed its controversial "bathroom bill" HB2, several private businesses responded by clarifying their own positions on who can use which bathroom. One Kroger grocery story in Athens, Georgia, said that it had unisex bathrooms "because sometimes gender specific toilets put others into uncomfortable situations." The sign outside the bathroom listed the groups the bathroom existed for, including parents with small children, parents with disabled children, those with a physical or mental disability and LGBTQ people.
Constance Wu to Hollywood's lack of diversity 
Fresh Off the Boat actress Constance Wu has been a fervent advocate for a greater diversity of faces and voices in Hollywood. When the trailer for Matt Damon's upcoming film The Great Wall dropped in July, the actress took to Twitter to give everyone a piece of her mind. In her own words, "Our heroes don't look like Matt Damon." 
Simone Biles v. body shamers 
Anyone looking for ways to deal with body shamers, look no further than Olympic gold medalist Simone Biles. After haters stormed an Instagram post of hers, she responded with a tweet that reminded the trolls that it wasn't about them. "You can judge my body all you want, but at the end of the day it's my body," she wrote. "I love it & I'm comfortable in my skin." 
Billboards to political hate
2016 was the year of going big or going home. As such, people who had something to say about Islamophobia or homophobia used one of the biggest venues possible: public billboards. In Mississippi, a roadside billboard lamented the passing of an anti-LGBT religious freedom bill, while a billboard in Michigan took aim at Trump's rhetoric regarding Muslims. 
Chrissy Teigen to trolls 
When trolls tried to tell Chrissy Teigen how to parent, all because she went out to dinner with John in the first month after the birth of her child, Teigen shut it down. Teigen screenshotted the haters and shared the messages on Twitter. She also mocked the passive aggression of many of the commenters who were trying to offer unsolicited advice on mothering. 
Teen to homophobic aunt
Proving that you need not be a celebrity or a billboard to clapback, with one text, a teen told off her homophobic aunt, who called the young girl a "faggot": 
Don't worry about it! I know what you're like after a few bottles of wine. I can't make Indie's birthday I'm afraid, I have a huge lesbian orgy that day and me and the other faggots have been planning it for months. By the way how's your divorce going? I saw uncle Lee with his new girlfriend, she's 20 years younger than you right? Speak soon!
Christine Blackmon to Dani Mathers 
When Playboy playmate Dani Mathers took a Snapchat of a naked woman at the gym, the naked woman did not stay silent. In a post to her own Facebook, which has since turned private, Christine Blackmon, the woman from the gym wrote: 
Here's the deal — you may have been a Playboy model, but not all of us work out to be "hot," some of us work out simply to honor the bodies we were given. That's all that woman was trying to do and you violated her. Shame on you. I bet I could get hundreds of women to post their beautiful bodies and regardless of size, shape or color, they will ALL be more beautiful than the ugliness you showed in that post.
She added the hashtags #UnseeTHIS and #AllBodiesAreBeautiful at the end.
Skai Jackson to Azealia Banks 
When Azealia Banks began hurling harsh language at former One Direction member Zayn Malik, 14-year-old actress Skai Jackson began to tweet about the incident. When Azealia tried to come for her, she got an earful of what Jackson had to say.
Banks made fun of Jackson's body, to which Jackson said, "Worry about your career. Get one." 
When Banks said she had never heard of Jackson and that she was "only a meme," Jackson wrote: "A meme with 2.3 million Instagram followers. My memes are more relevant than you." 
Well, numbers don't lie.